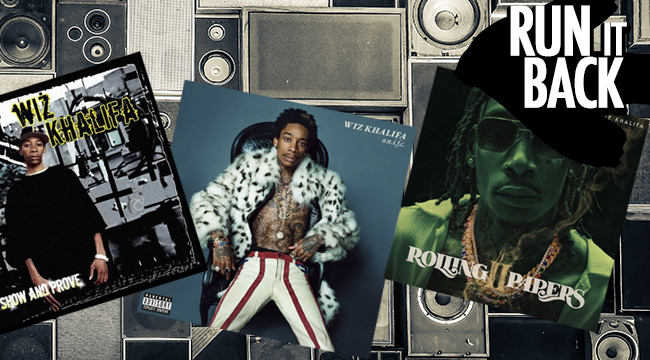 Run It Back is a retrospective review of classic or game-changing hip-hop releases whose style and sound still resonate with listeners in the modern, streaming-driven era. Hip-hop has always been a forward-facing, youth-oriented culture, but it's also deeply informed by the past. This is our way of bridging the gap, paying homage to rap's roots while exploring how they still hold relevance today.
It feels a little odd to think of Wiz Khalifa as a grizzled, old rap veteran, but somehow, improbably, that's exactly what he's become. Of course, Wiz doesn't exactly suit the criteria of what we've come to expect from a seasoned rapper. From his newly-chiseled, tattooed frame to his on trend collection of 'locs, he would seem to fit in nearly perfectly among the Soundcloud-bred band of hip-hop freshmen like Wifisfuneral, YBN Nahmir, Lil Skies, and Lil Pump.
With a new album coming rapidly over the horizon with a title that harkens back to his true introduction to mainstream sensibilities — the oft-maligned Rolling Papers — taking a look back at how his style has evolved is almost jaw-dropping. Where his true peers, rappers like Drake, J. Cole, Wale, and Big Sean — have all largely stuck to their lyrical guns, maintaining similar content, flows, and presentation over the years since they each graced their respective XXL Freshman covers — the Wiz Khalifa of old is almost unrecognizable compared to the one who stands ready to drop Rolling Papers 2, the ostensible follow-up and redemptive effort that he likely hopes will redefine the original's legacy in his expanding catalog. His evolution from mixtape rapper to mature artist who is willing to revisit and redeem his musical misstep is a perfect encapsulation of the ways in which rappers grow, change, and learn from their mistakes.
It's intriguing the way a battle-rap-hardened, street-anthem-slinging, rapper's rapper like the early Wiz Khalifa, a rapper in the tradition of the East Coast's most celebrated rhymers like Big L and Jay-Z, could, over the course of a series of mixtapes that included Star Power, Flight School, and eventually, his much-beloved Kush & Orange Juice, the album that seemed to predict superstardom for the constantly-evolving Pittsburgh rapper. Yet, after the enthusiastic reception of Kush & OJ, Rolling Papers was received with a resound thud. Diehard fans were negatively impressed by what they perhaps saw as an abrupt shift from his original sound.
The modern, melodically-inclined, carefree version of Wiz that first appeared on the Atlantic Records debut was not the one that first started making noise back in 2005 with self-produced mixtapes like Prince Of The City and Show And Prove. At the time, the much younger Wiz resembled nothing so much as the stereotypical rap fan of the day: Baggy clothes, a fitted cap, and a somber expression adorned the cover of Show And Prove, while his rhymes displayed all the hallmarks of his early influences like Cam'ron and the rest of his Diplomats crew who were then dominated the East Coast airwaves.
Long before social media made interaction between the disparate, central regions of rap, though, Wiz was already cherry-picking sonic inspirations from among the available offerings via radio and MTV; "Bout Mine" borrowed significant 808-slamming bombast from the Southern "crunk" style, while "Let 'Em Know" and "I'm Gonna Ride" bore the triumphant sampling style of Wiz's then-beloved Dipset. Wiz 1.0 was a certified, backpack rap nerd hellbent on proving that no rapper could be his superior when it came to multisyllabic, polished flows and complex, interior rhymes. Yet, somewhere along the way, that Wiz decided it wasn't enough to only be the best rapper — he needed to be the best artist.
For the succession of mixtapes that followed that initial excursion into the spotlight, Wiz adopted even more radio-friendly musical mannerisms, even as his persona became more rockstar-ish in a proportionate measure. The lanky wordsmith began to cover his body with a tapestry of tattoos and sonically, took a swerve into the realm of synthy, sing-song beats and hooks that began his transformation into the Max B-influenced, affable stoner image that he currently maintains. Star Power, Flight School, and indie studio album Deal Or No Deal began to show flashes of the Wiz we know now. Wiz 2.0 was born.
Yet, by the time the first Rolling Papers released, it seemed to his longtime fans that he'd gone too far, becoming mired in a pop-rap presentation that stripped away the witty charisma of even 2.0-era gems like "Boarding Pass" or Kush & OJ's "Never Been." Its reception was so unfavorable that the release of follow-up mixtape Taylor Allderdice was accompanied with a letter apologizing to fans for the creative turns on Rolling Papers and its overall disappointing execution. It wasn't enough to prevent a large portion of the hip-hop audience from writing him off; more recent efforts like Laugh Now, Fly Later and Khalifa similarly met lukewarm reception outside of his hardcore fanbase, although Blacc Hollywood did garner a gold certification.
[protected-iframe id="a370b9b2b5b48cd1cba59a5547a7202e-60970621-76566046″ info="//players.brightcove.net/4863540648001/S1LI5bh0_default/index.html?videoId=5799785316001″ frameborder="0″ allowfullscreen=""]
Wiz recently acknowledged the uncertainty that followed his decision to return to his major label debut for inspiration but explains that he feels that now is the perfect time for a fresh start. After all, he recently turned 30, he's been married and divorced, he's become a father, and he's taken up muay thai. His physique is almost as unrecognizable as his Rolling Papers sound was to fans who discovered him via his Prince Of The City tapes. This is Wiz Khalifa 3.0 and judging from his prior evolutions, we can hardly expect this to be his final form.
However, maybe that's the true takeaway from Wiz's continued evolution over the years. In our current digital streaming era, we are quick to write off any rapper who comes along based on their image or their first project, discarding them as a disappointment when album sales don't meet arbitrary sales projections or when their lyricism doesn't fit our expectations for "good" rap. It's ironic that Wiz Khalifa 3.0 most clearly resembles the Generation Z artists that have been disparaged for "mumble rap," for singing too much, for seeming unfocused or generic in their presentation. Maybe instead of making snap judgments on rappers like Lil Pump or Wifisfuneral or Trippie Redd, the rap audience should instead realize that rappers, like any of us, can and do change in unexpected ways with time. As they mature, so might their art — it won't always be pretty or understandable, but they deserve the chance to grow beyond their own Rolling Papers personas to find what works for them and rap fans.
Rolling Papers 2 is out tomorrow.