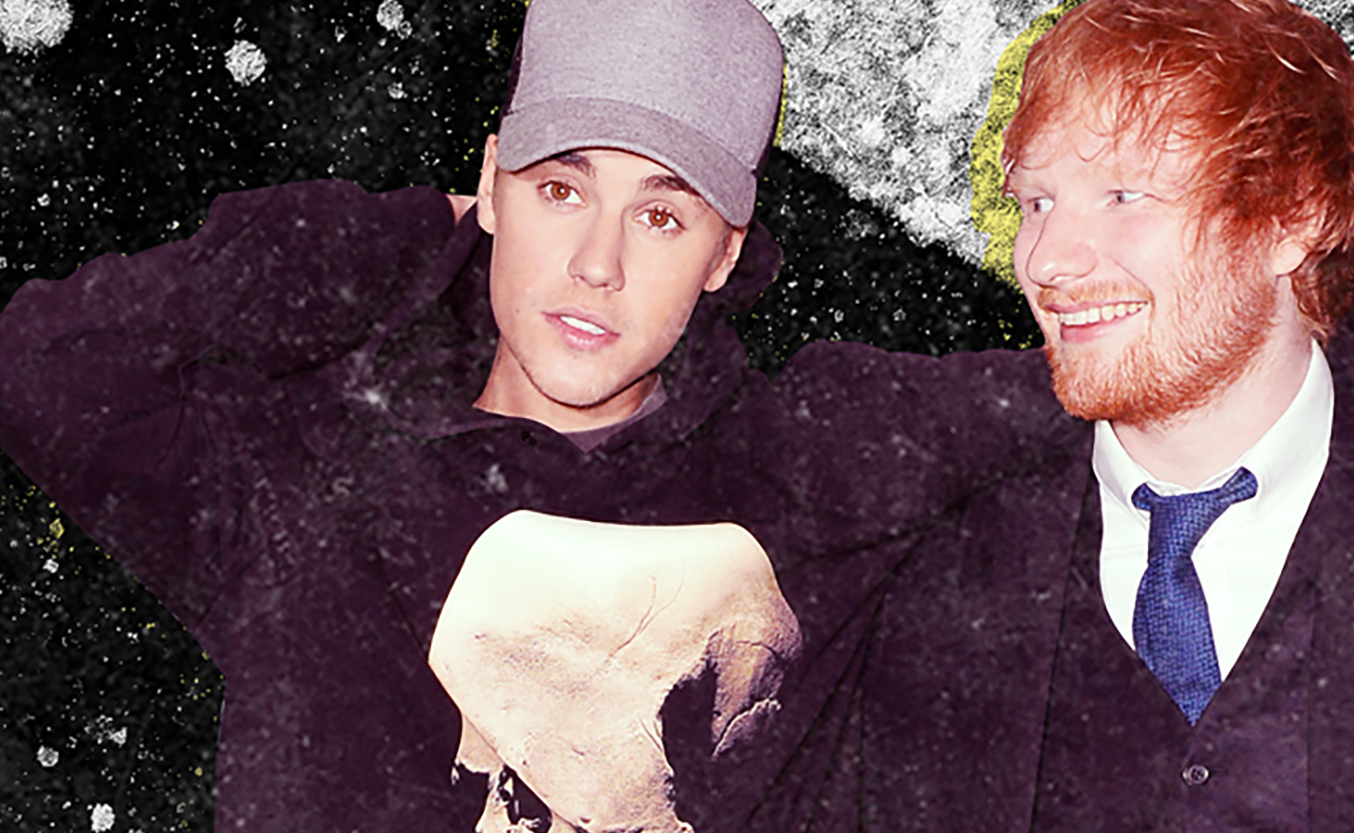 No stranger to collaboration, Ed Sheeran has earned a reputation over the course of his career as an artist undeterred by genre boundaries. He's dived head-first into working relationships with artists as disparate as Beyoncé, Tori Kelly, Hoodie Allen, and Lupe Fiasco – lending his significant streaming influence or hoping some of theirs will rub off, depending on the collaborator.
Sheeran's recent "I Don't Care" with Justin Bieber, a party soundtrack about feeling left out at parties, eventuated as more than just a single; it was just the appetizer to an album of Sheeran & Co. songs, with the likes of Bruno Mars, Chris Stapleton, Stormzy, Skrillex, and Khalid appearing on No. 6 Collaborations Project. "Remember The Name" sees Sheeran playing peacemaker, and uniting Eminem and 50 Cent, while Sheeran makes up for missing out on remixing "Despacito" – something he said he'd hoped to do before Bieber got there first – by joining the Latin crossover movement with "South Of The Border," featuring Camila Cabello and Cardi B.
From chart-toppers at the peak of their influence to big names shining a light on emerging artists — while hoping for some of the sparkle to rub off on them — pop collaborations have long extended, altered, or launched pop careers. Here are ten of pop history's most influential and unforgettable.
10. Beyonce, Nicki Minaj — "Feeling Myself"
Bolstering each other up for what felt like the entirety of 2014, Nicki Minaj and Beyonce played a game of collaboration tennis, remixing and guesting on two of the year's best hip-hop tracks. First came the "Flawless" remix, where Onika answered the call over Bey's first sample of Outkast's "Spottieottiedopaliscious" (but not the last).
Months later, its psychic twin was born when it came time for Nicki to drop her long-awaited Pinkprint. The two artists share writing credits with SZA on the track, which serves as a reminder of their many, undeniable successes – "Male or female, it make no difference: I stop the world," Beyonce points out. You can almost feel the song's hair flipping you in the face as it shrugs and smirks. Refusing to be pitted as rivals, the pair gee one another up, flexing all the while. It's a highlight on Pinkprint – itself a highlight in Minaj's discography for the skillful way it managed to avoid evoking genre whiplash, flitting from tracks like this, "Anaconda" and "Trini Dem Girl"s to the more introspective "Bed Of Lies," "Favorite," and "The Crying Game" that serve as emotional counterpoints to her delicious braggadociousness.
9. Brandy, Monica — "The Boy is Mine"
A duet designed to squash rumors of jealousy and competition between two young women – but largely served to only create more of them on its journey to becoming the biggest female duet in chart history – "The Boy Is Mine" has both the lyrical content and a sound that transports you back to 1998. It was not only the breakout single for both its singers, but also for writer and producer Rodney "Darkchild" Jerkins, who'd go on to have credits on songs by Destiny's Child, Nsync, Jennifer Lopez, Britney Spears, and Beyonce and play a significant role in crafting the sound of pop in the late '90s and early 2000s.
Famously conceived while he was watching women fighting over a deadbeat cheating boyfriend on an episode of The Jerry Springer Show, "The Boy Is Mine" is both an homage to Paul McCartney's guest spot on Michael Jackson's Thriller lead single, and a response to ideas of a professional feud simmering between Brandy and Monica. The duet attempted to rebuff the idea in an environment where it was presumed only one woman could be at the top of the R&B charts, but 14 years after its release, Monica essentially confirmed the inverse had been true all along: Rather than being antagonists because of any rivalry or jealousy, the two singers simply didn't get along as teenagers and uniting in the face of gossip was little more than a stunt.
8. Barbra Streisand, Donna Summer — "No More Tears (Enough is Enough)"
On side two of Wet, Barbra Streisand's 1979 concept album about water (you heard me), lies its standout track. Veering wildly from a Babs ballad to disco anthem, it's a collaboration in the same way that Speakerboxx/The Love Below is; two artists, working back-to-back, visiting if not completely inhabiting each other's worlds. Then coming just a few years off the success of "Love To Love You Baby," her first major collaboration with Giorgio Moroder, Donna Summer sat comfortably at the top of the Hot 100 singles chart, breaking records as she did so, thanks in large part to this Platinum-selling track.
7. Drake, Rihanna — "Take Care"
An anthem for hopeless romantics in helpless places, R&B's Ross and Rachel came together for a second duet in 2011 with this back-and-forth tinged with distrust and desperation. The title track on Drake's record – the creation for which was motivated by a desire to be thoughtful, introspective, and careful after a period of being little more than responsive – its mission statement and rallying cry makes simple the complex and confusing haze of romance and regret: I'll take care of you. If you'll let me.
A second collaboration grounding "Take Care" is significant; beneath Rihanna's whisper and Drake's urgent rapping are the echoes of Jamie XX's keys, borrowed from his remix of Gil Scott-Heron's "I'll Take Care Of You," which originally appeared on the album-long collaboration We're New Here – the last project radical jazz poet Scott-Heron would release before his death only months later.
6. Gotye, Kimbra — "Somebody That I Used to Know"
Like an infestation of sweet insects, this duet between Australian bedroom producer Gotye and New Zealand singer Kimbra came from nowhere, refused to leave, and was slowly reduced to a mildly irritating background hum before dissipating and leaving behind a distant memory of exposure. So inescapable as it was in the year before claiming two Grammys in 2013, the song's ubiquity threatened to overshadow the appeal at its core. Over a sample of a Brazilian jazz guitar, Wally de Backer wrote a gut-punch of slashed romantic idealism that met the standard of international success set by fellow Australians Savage Garden in 2000, and became one of the first viral music moments of the decade.
5. Kanye West, Jay Z, Big Sean — "Clique"
"GOODMUSIC.THE ALBUM.SPRING2012." That was the Kanye West tweet that reintroduced the long-dormant GOOD Fridays in 2012, and ignited Cruel Summer season. Big Sean, Jay Z, and Kanye West each take a verse on this centerpiece track on GOOD Music's Cruel Summer compilation, with each building significantly upon its successor. By the time it reaches Kanye West's speedy ruminations on breaking into and earning respect in the fashion industry, his impact on tabloids and celebrity culture, Black American wealth and fame, grief over his mother's death and the depression he dealt with as a result, Big Sean's incredibly 2012 shoutout to 2 Chainz ("Scrrr!") is thankfully a distant memory.
It's the context of "Clique" and the compilation more broadly that make it significant in the personal history of Kanye West: it marks the last time he worked with Jay-Z, following the previous year's album-length collaboration Watch The Throne; on "Cold," he acknowledged his love for Kim Kardashian (now West), then just long-rumored and never acknowledged; and he set in stone his intentions for his career outside music: "Dinner with Anna Wintour, racing with Anja Rubik / I told you motherf*ckers it was more than the music / In the projects one day, to Project Runway." He set the intention and followed it – occasionally too single-mindedly perhaps – but as he affirms in the closing bars: "I been talkin' to God for so long that if you look at my life I guess he's talkin' back".
4. Mariah Carey, Boyz II Men — "One Sweet Day"
In 1995, AIDS-related complications were the leading cause of death for Americans aged 25 to 44. Among that number was David Cole, one-half of C&C Music Factory and a friend and long-time collaborator of Mariah Carey. Following his death in January, Mariah recruited Boyz II Men to eulogize David and "so many friends we've lost along the way". The tribute brought together two powerhouse vocalists and beat Boyz II Men's impressive chart record set previously by "End Of The Road" and "I'll Make Love To You." The 16 weeks "One Sweet Day" spent at No. 1 on the Billboard Hot 100 chart was only matched by "Despacito" in 2017.
3. Kylie Minogue, Nick Cave — "Where The Wild Roses Grow"
Inspired by "a quiet obsession" he held for Australia's impossible princess, Nick Cave wrote a tortured duet, one simmering with lust and violence in equal measure, and sent it to Kylie Minogue's parents' house. The next day, the origin story goes, she replied with an enthusiastic yes. A dialogue between a murdered woman and the charismatic interloper who killed her – his bars written like a recollection or testimonial, depending on your imagination of what happened after the strings fade to silence – the song typified Cave's Murder Ballads record on which it appeared, and remains a cerebral and brilliant flash in Australia's pop music history.
2. Queen, David Bowie — "Under Pressure"
Perhaps the most legendary collaboration in rock history, "Under Pressure" was famously born from frustration, improvisation, and competition. It all happened in a Swiss studio where Queen was recording "Feel Like" in 1981, when in walked David Bowie. In a period of 24 hours fuelled by red wine and cocaine, he and Freddie Mercury recorded ad-libs and pleas and scats for the track, which stacks their compiled vocals in an imperfect mix that adds only more humanity to the howling cries of Bowie and Mercury's guttural falsetto. Then in his early 30s and living a decade into Thatcher's reign as Prime Minister, Bowie contemplated "the terror of knowing what this world is about" with restrained helplessness, while Mercury occupied a more instinctual role, reacting and crying out, until they find themselves harmonically reconciled in the face of it all.
1. Luis Fonsi, Daddy Yankee feat. Justin Bieber — "Despacito"
The self-imposed "no remixes" criteria that dictated much of this list (sorry, multiple Ja Rule-led Murder remixes of J-Lo songs that otherwise would've proliferated) couldn't hold up in the face of Justin Bieber's contribution to the already unforgettable "Despacito." Not since the "Macarena" in 1996 has a Spanish-language song landed – and lasted – at No. 1. But where its predecessor is whipped out at parties for clumsy group dances, the impact of Luis Fonsi and Daddy Yankee's global popularity has been felt more significantly. The undeniable appeal of Latin music and reggaeton is seeing artists like J Balvin, Maluma, and Bad Bunny establish themselves as mainstream forces, able to select from the pop artists desperate to collaborate and experience the halo effect that's still illuminating Bieber, two years since he saw crowds going wild for the original "Despacito" and decided he wanted in.
Some artists covered here are Warner Music artists. Uproxx is an independent subsidiary of Warner Music Group.