It's an easy enough situation to analyze. "Beat the clock challenges" really only work if the person who beats the clock wins something — match placement, a Royal Rumble number, a title shot, whatever — and having one with the three women who are already in the main event of your biggest show of the year (and who have, in Becky Lynch's case, already had to jump through multiple unnecessary hoops to get there) is just kind of pointless. It's "building momentum," that vague power boost Raw and Smackdown pretend wrestlers get from "bragging rights" wins. What's the point, you know? To show that the best people on the show can beat the worst people really fast? We watched Rousey beat Dana Brooke in a single GIF last week.
It's one of those things that would work better, I think, if WWE still used actual jobbers for matches like this. With characters like the Riott Squad, you get stuck somewhere between 1980s booking and late 1990s crash TV booking where identifiable, recurring characters never truly feel like "enhancement talent," but get treated like it, and instead of reveling in how helpless and bad they are, you kinda feel bad for them because it feels like maybe they're just not being "used right" or appreciated. And when everyone on your show gets a turn being this kind of talent, you're left with a roster that feels about 75% useless. It's why you can't have Jinder Mahal lose all the time for years and then suddenly get him over as WWE Champion, and why he instantly goes back to being non-threatening when that push is over.
Anyway, Rousey trucks Sarah Logan in a minute-25, which only has a "minute" in front of it because Logan ran away from her at the beginning. Charlotte Flair draws the short straw and gets Ruby Riott herself, the most difficult pull, and fails to put her away in time. Becky Lynch gets Liv Morgan, the easiest pull — pretty sure the referee could've schoolboy'd Liv and pinned her in less than 1:25 — and exhausts Liv's entire moveset before pinning her in 1:18.
And that's it, really. Nothing has changed, except now Becky Lynch has proven that she can defeat an unsuccessful wrestler in seven fewer seconds than Ronda Rousey. I'm not sure I care about interpersonal bragging rights, especially when Ronda effortlessly took Lynch to the fucking woodshed a couple of weeks ago.
I think the WrestleMania match is going to be really great, but I wish everything between November and now had been in better service of the talent, and a better build for a fight that was ready for Mania as soon as Lynch's hand hit Flair's face at SummerSlam.
Also, the less said about Ronda Rousey's three attempted mic drops in a row where she had to walk back over and pick it up to continue her promo, the better. Someone probably told her this was cool, but it produced sufferin' succotash levels of second-hand embarrassment.
Best: Paul Heyman Talks Too Much
More great work from Paul Heyman and especially Seth Rollins this week as they continue to build a WrestleMania main-event between a passionate, evolved babyface challenger and a champion who can't pull his bright purple face out of the latest issue of Back Woodsman long enough to show up to work and participate. However, the only thing anybody's going to be talking about is the cut-away to this kid.
Theory: The reason John Cena hasn't shown up to take Baron Corbin's place in the WrestleMania match against Kurt Angle is because Cena was transformed into a child by magic wishing dust and nobody will believe it's him. Look at that picture and tell me that's not John Cena. He's got the same hair and it even looks like he's doing a salute. Plus, he's out here burying Paul Heyman: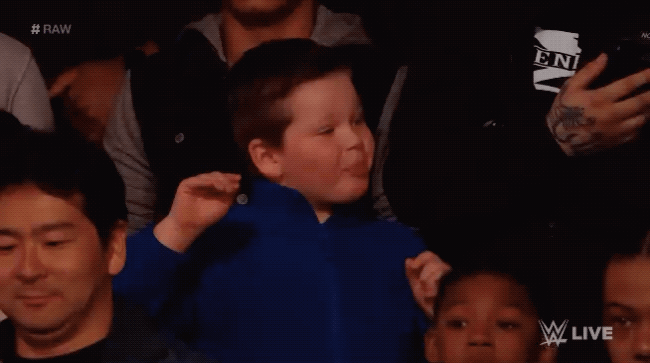 The only irony is that child John Cena dresses like an adult, while 41-year old John Cena dresses like a child. John, if you're reading this, I'm texting WWE PR with the address to a Zoltar fortune teller machine in New Jersey, I think it can fix everything in time for Mania. Also, I may have just accidentally pitched this to WWE Studios as a feature film.