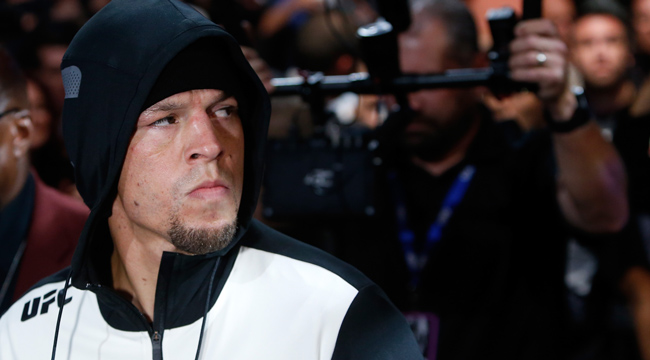 Nate Diaz is done with the grind. After a long UFC career that spans back to 2007, the younger Diaz brother is no longer interested in taking whatever fight the UFC offers him next. Instead, his plan is to wait for the trilogy fight everyone agrees will eventually happen against Conor McGregor.
"I'm not doing s**t until we go for round three. You won't be seeing me until then," Nate told reporters following the match on Saturday night. "If they want to set it up as soon as possible, let's do it. But I don't think it's a very good business move for him to be taking any other fights, and he's a businessman, so we'll see what happens."
That's some optimistic thinking from Diaz, who only seems to be seeing the situation from his point of view. Sure, the only obvious big money fight for him is a third McGregor fight. But Conor has choices. Any match he takes is guaranteed to do big business. If he still wants to be the first fighter to hold two belts at once, he could fight Eddie Alvarez for the lightweight title. And then there's that superfight with Floyd Mayweather which will make lots of dollars if not a ton of sense.

"Nothing else interests me. Unless it costs a lot of money," Nate clarified. "We're gonna fight for a big payday, for a big situation. And no one out here is making a big enough of a big enough deal to fight. So when Conor's ready to do his thing again, no rush, take your time. Go on vacation, we can do it as soon as he wants to set it up."
Nate had a message for the other hopefuls in the UFC that were looking to essentially copy what Diaz did with Conor McGregor: He created massive interest for a match up by calling McGregor out in a profanity-laced tirade on big FOX.
"If you're gonna just start calling me out, it better not be on no social media, it better be on some main stage s**t, on some fantastic s**t, and you better say my name and say it loud," Diaz said. "Or even anybody's name, and say it loud. Because it's hard to hear motherf**kers way up here. I can't just be taking fights because someone wants to fight. You ain't gonna make me no money? I've fought 26 fights in the UFC. Don't give me that 'I'll fight anybody!' Nah, I already did all that. So when you make some noise and do something well, make a star outta yourself, we can get our fight on."