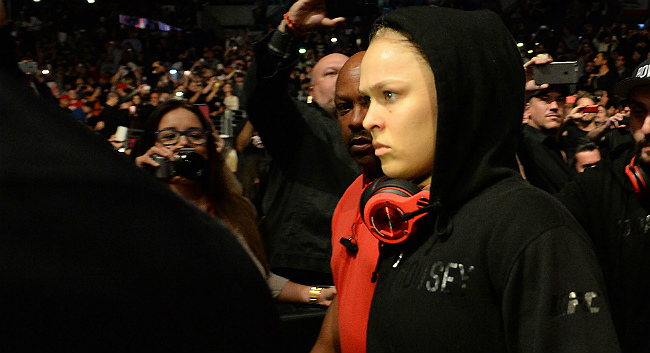 We're about to enter month four of Ronda Rousey's latest self-imposed media blackout which began following her stunning 48 second loss to women's bantamweight champ Amanda Nunes at UFC 207 on December 30th. The next morning, she put out a social media message thanking her fans and stating "I need to take some time to reflect and think about the future."
Since then, Rousey was spotted at Standing Rock and on the set of NBC's Blindspot. But the only word on her UFC future came from people like UFC president Dana White saying he believed she was done fighting. At this point, the magic eight ball prediction on her continued UFC career reads 'Outlook not so good.'
But a social media posting from strength and nutrition coach Dan Garner has us wondering if we've jumped the gun on declaring Rousey done.
"Wanted to give a good welcoming post to Ronda Rousey who has just recently joined the team, and is all set for the comprehensive nutritional programming process with myself," Garner wrote. "Excited to have her on board and to accomplish some great things with her this year. Let's go!"
Garner isn't a top name in the MMA world but his bio lists him as a trainer who has worked with NHL, NFL, MLB and UFC athletes. While it's very possible that Rousey is working with him to hit peak levels of fitness expected by Hollywood if she wants to land plum roles, his extensive work with fighters has us wondering if Ronda is getting ready to make another run at regaining her former Octagon glory.
As usual, we won't know for sure until Ronda lets us know … and that could be a while given how adverse she's been about sharing news with the world. But for the moment, enjoy this flicker of hope that maybe, just maybe, we'll get to see Ronda Rousey back in the UFC again.