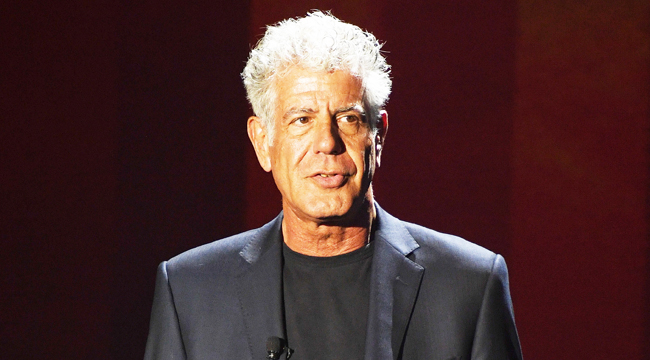 Millions were touched by Anthony Bourdain's life and legacy, and although his shows will continued to be enjoyed for many years to come, his passing has left a massive void that shall not be filled. Tributes from those who were fortunate enough to encounter him continue to pour forth, and now, David Simon — current showrunner of The Deuce and creator of The Wire — has penned an incredibly moving essay about how his binge-watching obsession with Bourdain's No Reservations led to their years-long collaboration on Treme.
It's amazing how it all worked out, but essentially, Simon found himself sitting on the couch one day, and he very vividly describes how he was entering hour ten of feeling mesmerized by the "long, lanky, exquisitely sad-faced visage of a road-worn Bourdain." At that point, Bourdain's narration washed over him, and Simon went into a daze, convinced that they were meant to at least be friends. This excerpt hits home regarding Bourdain's magnetic qualities:
"I was still on the sofa at four in the afternoon, still half-dressed, when I decided that my life could not be complete if I did not somehow become friends with Anthony Bourdain. 'This guy is so fucking real,' I remember telling my son [Ethan]. 'This guy,' Ethan replied, correcting me, 'might be the absolute coolest person on the entire planet.'"
And so, Simon did what any other gutsy and slightly obsessed creator of Treme would do. He conjured up a reason to speak with Bourdain and managed to get his number. At that stage, Simon admits that he simply wanted to be friends ("I just wanted a bromance"), but he pretended to solicit Bourdain's advice on how to craft a chef character, and from there, Bourdain ended up consulting and writing for four seasons of the show.
Simon says that the legendary chef, in effect, "guided and wrote us all the way home" on Treme, and beyond that, he believes that Bourdain represents the ideal version of what America wants to be, especially amid today's climate:
"To have him widely displayed as our countryman, open to and caring about the rest of the world, and being so amid our current political degradation — this was ever more important and heroic. To lose him now, amid so many fear-mongering, xenophobic tantrums by those engaged in our misrule, is hideous and grievous."
Overall, Simon feels devastated not only at losing such a beloved figure but one who he says held an unparalleled capacity for empathy. The full essay is well worth a read and can be found right here.
(Via DavidSimon.com)