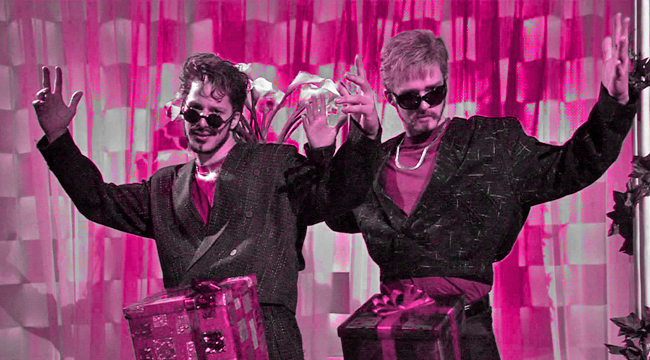 By now, I hope you've checked out our oral history of SNL's "Christmastime For the Jews," one of the greatest TV Funhouse cartoons ever. Here's a fun out-of-context quote: "The circumcising grateful squirrels one — I don't know why I had that." (Of course Robert Smiigel said that. Who else?) Again, you should really read it, but if that's not enough sketch comedy holiday season merriment, we have 10 more classic Christmas (okay, nine Christmas and one Hanukkah) sketches from the 44-season run (and counting!) of SNL. I only included sketches that are available online, so apologies for the lack of Will Ferrell singing "It's the Most Wonderful Time of the Year" while puking his brains out.
Merry Christmas!
"Winter Wonderland"
There's nothing particularly funny about this clip from season one, but look how jolly everyone is (except maybe Candice Bergen, who was hosting that evening). Gilda Radner, Jane Curtin, and Laraine Newman are all smiles singing this Christmas classic, with Garrett Morris on lead vocals, and I had the goofiest grin on my face when Chevy Chase, Dan Aykroyd, and John Belushi join in for support. It's hokey and earnest and sloppy, and I love it. That solo!
"Mister Robinson's Neighborhood: Christmas"
One of my favorite scenes in Won't You Be My Neighbor?, Morgan Neville's future-Oscar-nominated documentary about children's entertainer Fred Rogers, is when the Mister Rogers' Neighborhood host discusses Eddie Murphy's "Mr. Robinson's Neighborhood" sketches. He wasn't a huge fan, but "when Murphy met Rogers, the comedian threw his arms around Rogers, who was as gracious as you'd expect." I wonder what Mr. Rogers thought of Cabbage Patch Doll.

"Steven Martin's Holiday Wish"
If Steve Martin had one wish this Christmas, it would be for all the children of the world to join hands and sing together in the spirit of harmony and peace. If he had two wishes, the first would be for all the children of the world to join hands and sing in the spirit of harmony and peace… and the second would be for $30 million a month to be given to him, tax-free in a Swiss bank account. By the fourth wish, Martin, as perfectly dry as ever, is dreaming of 31-day orgasms.
Your move, Santa.
"NPR's Delicious Dish: Schweddy Balls"
A sketch so famous, it has its own ice cream flavor (and probably countless Etsy products). Ben and Jerry's Schweddy Balls is vanilla ice cream with a "hint of rum and loaded with fudge-covered rum and malt balls." I've had it. It's as delicious (dish, starring Ana Gasteyer and Molly Shannon) as "Schweddy Balls" is funny, and Alec Baldwin's current Donald Trump impression is exhausting.
"Hanukkah Harry"
As a Jew, I feel like I'd be doing myself a disservice by not including at least one Hanukkah-themed sketch. "Christmastime For the Jews" was already taken (it's also the most accurate; Chinese food and going to the movies has been my tradition since I was a kid), and "The Hanukkah Song" is good, but "Hanukkah Harry" is better. (The clip above is "The Night Hanukkah Harry Saved Easter"; the original, "The Night Hanukkah Harry Saved Christmas," can be seen here.) It's nine minutes long, but somehow, the premise never grows tired, and neither does Jon Lovitz's Yiddish accent, or the list of Jewish stereotypes, including the names of his reindeer, Moische, Herschel, and Schlomo. There aren't many Hanukkah SNL sketches (and yes, in typical Jewish fashion, I'm trying to make SNL feel guilty about this), but thankfully, there's "Hanukkah Harry."
"Charlie Brown Christmas"
What would happen if the Peanuts kids used their sad Christmas tree-morphing powers for… well, not good or bad, exactly, but to change reality. A busted-up automobile becomes a flaming red sports car; Jennifer Lopez and Ben Affleck (how very 2002) turn into Jennifer Lopez and Ben Affleck with a bigger hand to cup J-Lo's butt; Charlie Brown gets a fine head of hair; and Peppermint Patty and Marcie finally (finally!) share a kiss. It's canon now.

"I Wish It Was Christmas Today"
Hey, if it's good enough for Ariana Grande, it's good enough for me.
"Dick in a Box"
Of the 100-plus Digital Shorts, "Dick in a Box" is probably the most famous. And with good reason. It starts out unassumingly normal (minus the costumes), with Andy Samberg and Justin Timberlake's Andy and Raif wanting to give their girls something special for Christmas. And then, boom, it's a dick in a box. The execution is flawless, but it's also just a really catchy song with helpful instructions: "1. Cut a hole in a box, 2. Put your junk in that box, 3. Make her open the box." SNL still hasn't recovered from the loss of the Lonely Island, and gems like "Dick in a Box" (which even won an Emmy) are a big reason why.
"(Do It On My) Twin Bed"
"(Do It On My) Twin Bed" is for anyone who's ever brought a boyfriend or girlfriend home with them during the holidays to meet the parents (they should really make a movie about that), and started feeling a little… frisky. Or as the song goes, "If you want an old cat to watch you bone / You're gonna wanna get down in my parents' home." I'm partial to, "This is my old christening dress / And here's my stack of X-Files on VHS / Now we're gonna freak (freak) in my monkey sheets." It's very real, which is what makes it so funny.
"Ornaments"
Much like SNL, let's end with a bizarre, 10-to-1 sketch. "Oh, wow! This one's from my very first Christmas. 2008. I just never heard of it! It never came up!" There's no reason that the holidays can't be a little weird, too.