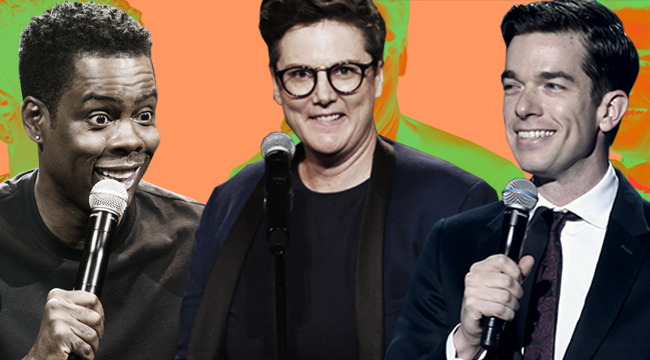 For the past few years, each round of 365 days has resulted in the same two things: even more stand-up comedy specials than the year before, and Netflix's continued domination in the genre. 2017 saw the production and distribution of nearly 100 new specials by Netflix, Comedy Central, HBO, Showtime and a host of much smaller competitors, but the overwhelming majority of these were proliferated by the ever-expanding streaming giant. 2018 was no different.
Many have argued that the current streaming stand-up boom is just too much. Others have opined about the inevitable bust that will follow, given the track record of previous comedy booms. They've even suggested that such a thing would be good for comedy, and to be honest, they're probably right. But that 2018 saw so much new stand-up coming out of Netflix and its competitors is wonderful. There is so much comedy out there, which means that comedians who wouldn't have had the chance to tape anything are getting to do just that, and audiences who wouldn't have known their names otherwise now do.
Australian comic Hannah Gadsby, whose festival favorite Nanette exploded pop culture over the summer, is one such example. So too are many other comedians, American and otherwise, whose latest offerings are included in the list below. Obviously, there are many lists like this out there, and not everyone is going to agree about what the 10 best stand-up comedy specials of 2018 were. Even so, these are the ones that really stuck out to us — and still do.
10. Adam Sandler, 100% Fresh (Netflix)
2018 has been a weird, complicated and — depending on your perspective — unpleasant year. Hence why, as Uproxx's Vince Mancini declared in his review, "What a weird time for Adam Sandler to be funny again." Sure enough, the Saturday Night Live alum turned movie star's first comedy special in over two decades, 100% Fresh, is actually pretty good. The topics joked about by the comic and musician aren't all that surprising, of course, but the fact that the 52-year-old funnyman successfully manages to maintain his relevancy in an incredibly crowded field is.
9. Emmy Blotnick, Comedy Central Stand-Up Presents… (Comedy Central)
If you don't know Emmy Blotnick's name, you should. After all, if you watch The Late Show with Stephen Colbert or The President Show, then you're already familiar with her work. (She's a staff writer at the former and previously served as the latter's head writer.) Blotnick has made several appearances on late-night television in 2018, but her half-hour comedy special on Comedy Central Stand-Up Presents… in September takes the cake. It contains, as The New York Times recently put it, "the smartest recent joke… at the intersection of sex and politics," and neither it nor the rest of Blotnick's set disappoints.

8. Aparna Nancherla, The Standups (Netflix)
When it comes to opening a set, Aparna Nancherla is one of the best. Nowhere is this more evident than in her episode of The Standups, Netflix's collection of half-hour comedy specials. "I recently celebrated a one-year anniversary of a relationship," she begins. "Thank you for not clapping. I noticed the hesitation." Throughout her stand-up career, Nancherla has made a name for herself by utilizing such awkward or tense moments for the purpose of making audiences laugh, albeit within the acceptable limits of cringe. She's also known to indulge in the occasional powerpoint slide, and its use is always a funny as it is surprising.
7. Hari Kondabolu, Warn Your Relatives (Netflix)
These days, Hari Kondabolu is best known as the guy who made that documentary about The Simpsons character Apu Nahasapeemapetilon that, depending on who you ask, ruined the famed animated series forever. Of course, Kondabolu's documentary did no such thing, and nor is it the only thing he's done. On the contrary, the stand-up comedian has been plugging away with fantastic albums for years, and he recently released the special Warn Your Relatives on Netflix. It's rife with cultural commentary and political hot points, but even if you find yourself disliking much of what Kondabolu has to say, you'll still laugh.
6. Pete Holmes, Dirty Clean (HBO)
With the third season of his acclaimed series Crashing set to debut in January, comedian and podcaster Pete Holmes is busy drumming up interest for that. Thankfully, however, his take on the show-about-a-comedian isn't the only thing that Holmes is doing at HBO. Dirty Clean, the follow-up to his critically loved 2016 special Faces and Sounds, is the latest comedy hour to debut on this year's list. (It premieres Saturday, December 15th at 10 pm ET/PT.) Despite its tardy appearance, Holmes's latest deserves your eyeballs.
5. Cameron Esposito, Rape Jokes (self-released)
Cameron Esposito does many things with many media, but it all took a backseat this year to her new self-made and self-distributed comedy special, Rape Jokes. Described as a concert film "about sexual assault from a survivor's perspective," the hour is technically free and only asks for a donation of whatever amount interested parties are willing to give. The proceeds "benefit RAINN, the United States' largest anti-sexual violence organization." All of that notwithstanding, Rape Jokes is a funny, tough and necessary hour of comedy that Esposito uncannily weaves together without issue.

4. Drew Michael, Drew Michael (HBO)
Last year's best comedy special was Jerrod Carmichael's 8 on HBO. The young comic and star of The Carmichael Show produced a seemingly stream-of-consciousness series of stories, jokes and comments that made for a fully immersive experience. Flash forward to this year's Drew Michael, in which the titular comedian performed directly to the camera and, at times, with an actress for short scripted segments. Directed by Carmichael, whose own special was directed by fellow comic Bo Burnham, Drew Michael was definitely one of the most innovative comedy films of the year.
3. Chris Rock, Tamborine (Netflix)
Speaking of Burnham, his directing job on 8 caught the attention of Chris Rock, who then hired him to direct this year's Tamborine. The result as a return to form for the Bigger & Blacker star. From the moment Rock hits the stage, he creates an hour of laughs that is as beautiful as it is thought-provoking. He begins with a question that, thanks to multiple cameras and some quick editing, is repeated three times: "You would think?" It's immediately followed by the first of many highly politicized topics, but Rock can't resist piling onto Tamborine's efforts to stall the inevitable punchlines until the last second.
2. John Mulaney, Kid Gorgeous at Radio City (Netflix)
From 2017's Oh, Hello on Broadway and the animated series Big Mouth, to comedy specials like New In Town and The Comeback Kid, John Mulaney remains one of the most prolific and capable comedians working today. This year's Kid Gorgeous at Radio City proved this 10 times over with the ridiculous spectacle of a single comic delivering punchlines in the massively oversizes Radio City Music Hall venue in New York. Why? Because it works so well, as do Mulaney's jokes turned earworms, like the name "J.J. Bittenbender" and the book Street Smarts. Don't get these references? Watch the special!
1. Hannah Gadsby, Nanette (Netflix)
Talking about stand-up comedy in 2018 is impossible without mentioning Hannah Gadsby's Nanette, which took the comedy world (and pop culture at large) by storm over the summer. And in light of Louis C.K.'s continued efforts to make a comeback despite admitting to the allegations against him, Gadsby and Nanette's placement on this list are indisputable. In terms of relevance, the special had the biggest impact on the art form — from inspiring other comedians to tackle similarly taboo topics, to fueling asinine-yet-necessary conversations about what, exactly, constitutes a stand-up special.