FX's Justified: City Primeval is nearly upon us. How long have we waited for Raylan Givens to swagger back into our hearts and vanquish some bad guys as everyone's favorite extralegal lawman? So many days that I cannot bear to count them, and I can only hope that much ice cream is involved.
We recently discussed one Justified episode, "Long In The Tooth," that makes an ideal essential rewatch before City Primeval. That particular episode showcased Raylan's legendary status and also served as a reminder of how the Marshall Out Of Water rolls around in the world. He should also have a swell time hunting bad guys in Motor City, where his hat and boots will again be observable outside the hollers of Kentucky. The revival is based on Elmore Leonard's City Primeval: High Noon in Detroit novel.
A few thoughts before we begin:
First, there's never a bad time to circle back to Olyphant's many onscreen rodeos as a lawman. He's certainly doing nothing to deter his reputation as a charismatic wearer of badges. And he is undeniably well-suited to these swaggering roles. He can't stop gripping that gun in the holster while strutting through America and the galaxy at large. Sure, there's the occasional not-so-great entry — like the Jerry Bruckheimer-produced Gone in Sixty Seconds (2000), in which Olyphant was cursed with a completely generic cop character. We shall disregard that one and focus on his better lawman joints.
Second, this is also as fine a reason as any to circle back to some non-lawman Olyphant roles, which are necessarily less celebrated, but don't let that deter you. Don't expect a lot of prestige from these projects, either, because we are revisiting them for fun and to distract ourselves with variety before he reprises the Raylan role (and it's about damn time).
With that said, I reckon that we should dive into both categories.
Top 5 Olyphant Lawmen Roles
5. The Crazies (2010)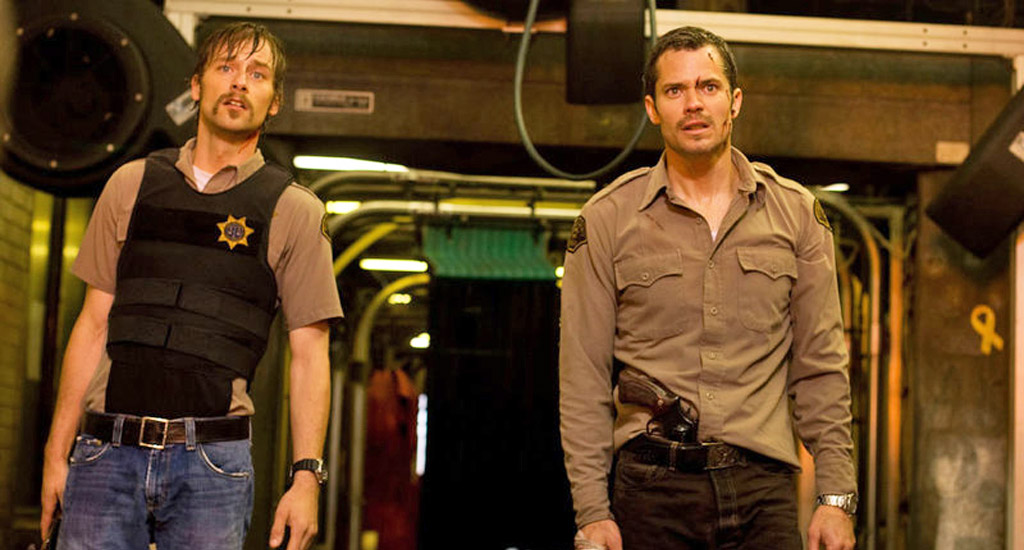 This horror remake accomplished much more, thematically, than the original George Romero flick while also diving deep into the genre in such an intelligent way that the results were, well, a bit much. Yes, maybe this was too cerebral to be mega-successful as a genre picture (although it did well enough financially), and although this isn't technically a zombie film, a lot of the motifs that run through those movies remain the same. Olyphant's small-town sheriff finds himself navigating the early stages of an outbreak that turns people into irrational, unstoppable killers, and sh*t gets real with the military as martial law descends. Granted, it's a frightening watch, but it bypasses the usual horror tropes, and we get to see him in a serious genre take many years before he went on to star in a comedic zombie series on Netflix.