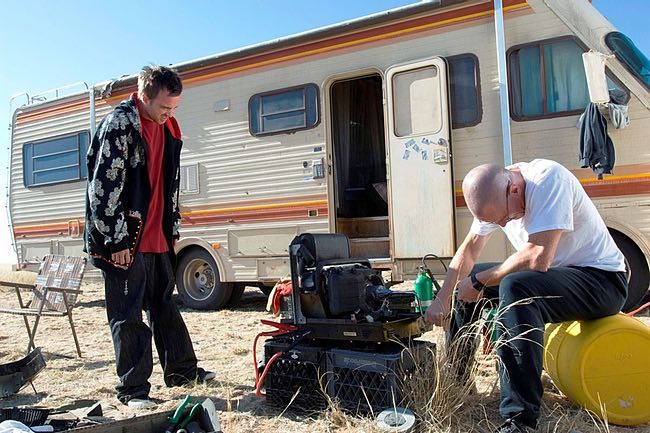 When news of a Breaking Bad sequel in the form of a movie broke last November, it only did so because Albuquerque's newspaper, the Albuquerque Journal, did some investigating with the local film office and discovered that a film named Greenbrier was set to shoot from November until February. After a little digging — and based on the provided logline — the Journal deduced that Greenbrier was a Breaking Bad movie. Variety subsequently confirmed it, noting that the film tracks "the escape of a kidnapped man and his quest for freedom."
It was not hard to surmise that the film will be about Jesse Pinkman's post Breaking Bad life. However, details about the film have otherwise remained scarce, aside from the fact that Vince Gillian is writing and directing the film and that Bryan Cranston may also return (if he does so, it will almost certainly be in a limited capacity, as Cranston is currently on Broadway through March, which would not allow him a lot of time to return to New Mexico for an extensive commitment).
Little else is known about the film, although rumors circulated last week that, in addition to Aaron Paul and Bryan Cranston, the cast may include Jonathan Banks (Mike), Jesse Plemons (Todd), Krysten Ritter (Jane), Robert Forster (The Disappearer), Matt Jones (Badger), and Kevin Rankin (Kenny). Obviously, as a few of those characters are dead, the sequel will likely include flashbacks.

News of the film has otherwise been limited, which we have come to expect from the Breaking Bad universe. Aaron Paul did, however, take a break from social media around the time that filming began on "Greenbrier," which may have been coincidental or part of an effort to remain mum on details.
However, an Albuquerque local has been driving around town, scoping out some of the filming locations and posting them to Instagram. He's even captured photos of Aaron Paul and Vince Gilligan about town. What's most interesting about the photographs is that they are taken in Albuquerque and, last we saw Jesse Pinkman, he was headed out of town. Yet, the shooting locations suggest either much of this movie will take place in flashbacks, or that Jesse Pinkman will make his way back to Albuquerque after his escape.
One thing we can expect based on these photos is to see both Jesse's car and Mike's car again (last we saw, Walter White had left Mike's car behind after killing Mike).
It looks like we'll see the compound lab again, as well.

This video suggests a return to the vacuum cleaner place that Ed, the Disappearer, works out of (possibly confirming the return of Robert Forster):
The Pinkman residence may also return, which lends more weight to rumors that Tess Harper, who plays Jesse's mother, will make a return appearance.
The strip mall location also potentially suggests that Saul Goodman will be in the sequel movie.
In fact, with the next season of Better Call Saul set to begin filming in April, I still have a small suspicion that the 5th season may be the last, and that the Breaking Bad sequel may also double as a Better Call Saul sequel and feature "Gene." Of course, we'd all love to see additional seasons of Saul, but as his Jimmy's transformation into Saul is nearly compete, it might make sense to end the series after next season with a movie that could potentially arrive right after Saul airs its finale.
That, of course, is purely speculative. In the meantime, we'll continue to sniff out whatever Breaking Bad movie leads we can track down.
(Via All About Saul)