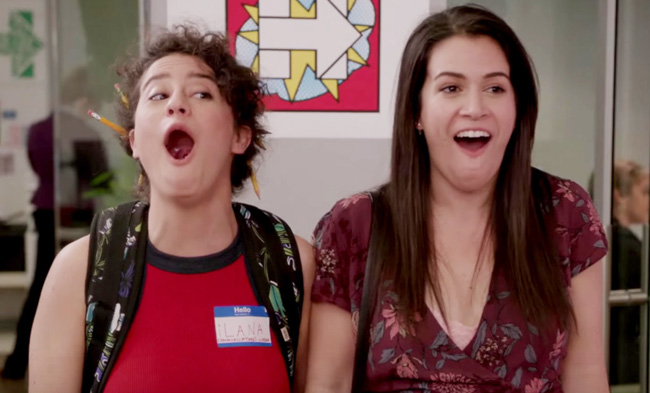 First the good news: Comedy Central has finally picked up Broad City for a fifth season. The bad news is that it's also going to be the final season of the beloved feminist stoner comedy. Even worse, the upcoming season won't premiere until sometime TBD in 2019, so there will also be a wait for it. Being that the fourth season wrapped in late 2017, there had better be some blunt-smoking CGI dragons involved, is all I'm gonna say.
Drawing the series to a close isn't entirely surprising, when you look at it face value. Both stars Ilana Glazer and Abbi Jacobson have begun to find broader success — Glazer in last year's big-screen ensemble comedy Rough Night, and Jacobson in the newly released critically acclaimed indie darling 6 Balloons with Dave Franco.
But fear not, because the duo isn't cutting ties with Comedy Central altogether. The renewal is part of an agreement that will keep Glazer and Jacobson in business with Comedy Central even after Broad City comes to an end.
As part of the first-look deal, Comedy Central is putting three new series into development. Two, "Mall Town USA" with writer-creator Gabe Liedman "Young Professionals" with writer David Litt, executive produced by Glazer and Jacobson; and a third, "Platinum Status," written by Glazer's brother Eliot and exec produced by Glazer with Principato Young and Electric Avenue's Will Arnett and Marc Forman.
Comedy Central president Kent Alterman remarked of the news that Glazer and Jacobson have evolved as producers and forces of nature. "They've got great ideas for how they want to wind down the series," he teased. "And we're excited to be doing more with them."
(Via Variety)