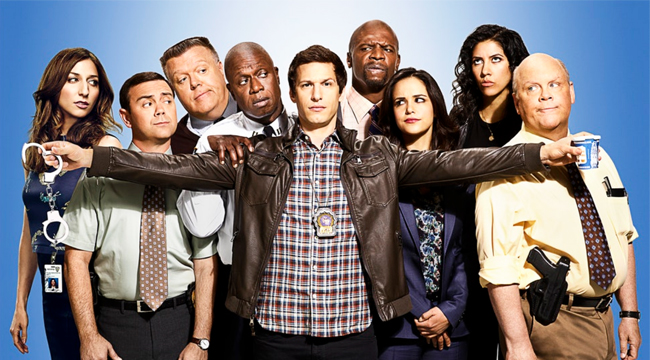 Late Thursday afternoon, FOX's shock cancellation of the beloved Brooklyn Nine-Nine after five seasons led to mass hysteria, to put it mildly. The show's rabid fanbase swiftly went into mourning on social media while urging the network to reconsider, but it seems that FOX's (voluntary) loss might be another entity's gain. Already, Hulu and Netflix are expressing interest in reviving the show in an online streaming capacity, and they're not alone.
The Hollywood Reporter adds that NBC and TBS are also stepping up as possible contenders to acquire the program due to the massive outpouring of fan malaise. And where Hulu is concerned, history may be repeating itself, given what happened to The Mindy Project, which also began on FOX:
Hulu could be a natural home for the series and has a history of giving new life to Fox/UTV comedies after reviving The Mindy Project for a multiple-season run following its cancellation by Fox. Netflix also could make sense, given the streaming giant handed out a two-season order for the studio's Unbreakable Kimmy Schmidt after NBC opted out of its initial straight-to-series order for what turned out to be a niche yet award-winning comedy.
Deadline notes that the TBS option makes sense because the network has already acquired off-network rights for the show. Yet will FOX combat plans for a revival anywhere? That would seem like a hostile move, if it happened, but then again, so does the cancellation of such a fiercely loved comedy series.
(Via Hollywood Reporter)