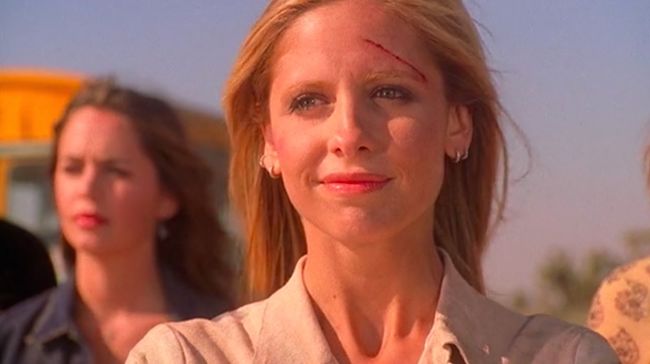 A week after HBO announced Joss Whedon's return to television, an even more surprising report has emerged during Comic-Con weekend: Buffy is back. Buffy the Vampire Slayer, which ran for seven seasons from 1997-2003, is getting the reboot treatment from Whedon and Monica Breen, who previously wrote for Alias, Fringe, and Agents of Shield. Sarah Michelle Gellar will not be back as the titular slayer — instead, the role will go to a black actress.
Gail Berman, Joe Earley, Fran Kazui, and Kaz Kazui (who produced Whedon's original Buffy film that inspired the TV series) will also serve as exec producers on the potential series. A network is not yet attached for the new Buffy, talks for which began last fall. Producers Fox 21 TV Studios will pitch the Buffy re-do to streaming and cable outlets later this summer in a package bound to ignite a bidding war. It's unclear if Whedon will have any additional role on the new Buffy due to his other commitments. (Via)
The new Buffy will be "contemporary," according to The Hollywood Reporter, and "build on the mythology of the original. Like today's world, the new Buffy will be richly diverse, with some aspects of the series, like the flagship, seen as metaphors for issues facing society today." Hopefully the Gentlemen can return.
We could all use some peace and quiet these days.
(Via The Hollywood Reporter)