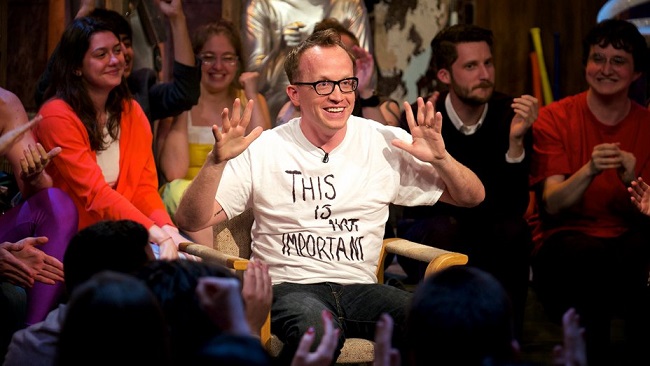 On Monday, comedian and television host Chris Gethard took to Facebook to update fans of his long-running late-night television series. The Chris Gethard Show, which originally began as an Upright Citizens Brigade live show, first made its televised debut on public access thanks to the Manhattan Neighborhood Network, and spent the past few years on Fusion and truTV, is no more.
"It's official! The Chris Gethard Show is canceled. Kaput. No more!" he wrote. "I write this with a strange mix of emotions: sadness, worry, uncertainty, but also pride, excitement, and relief."
According to the UCB alum, the show's cancellation was the result of a "mutual decision" between his team and executives at truTV, who previously told him they felt he "might be done with this project." Gethard's response? "I told them they were right." Even so, the comic quickly noted that while "it is not easy to say goodbye," he "[has] so many thoughts" about the experience and its end, as well as the state of everyone on the Gethard Show team — especially those who've been with him since its earliest days at UCB.
"The show is the show and it isn't changing anymore. We could all feel it on the inside. Part of the exhilaration, fun, and uniqueness of this show is always that it reflected us, the people making it," he said. "I'm different. The show isn't. It's time to see what's next… have no idea what I'm going to do next. It's been a few years since I've been able to say that. It's terrifying and exciting and what being an artist is really about. I can't wait."
Gethard rightfully acknowledged "One Man's Trash," the famous "Dumpster" episode that "a lot of people say [is] one of the greatest hours of television ever." Even so, Gethard Show's history is rife with all kinds of wonderfully silly and masterfully comedic moments — from sidekick Shannon O'Neill's many jabs at Gethard, to the program's insanely awesome musical lineup — that no other late night television talk show has managed to produce or replicate. As a result, The Chris Gethard Show and all of its brilliant moving parts will be missed.

The show's official Twitter account began sharing tweets from team members and fans alike as they reacted to Gethard's announcement with a mixture of sadness and heartfelt reminiscence:

You can read Gethard's full Facebook statement below: