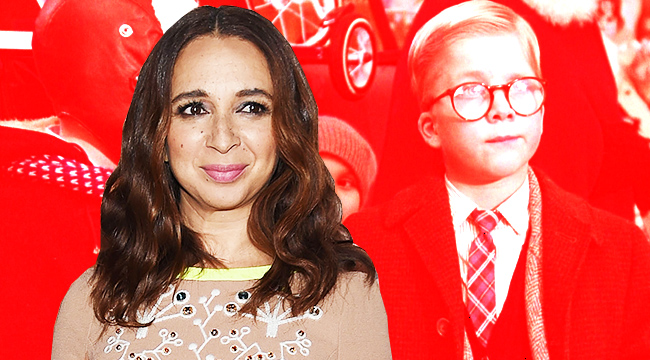 The long-running live musical trend on television won't be dying anytime soon, as proven by ABC's and Fox's recent announcements regarding their respective The Little Mermaid and Rent live broadcasts. Considering the recent success of Grease: Live, Hairspray and other adaptations, however, broadcast networks hoping to cope with streaming's increasingly bigger wins can't be blamed too much. Especially when they nab some pretty amazing talent, as Fox's holiday-set A Christmas Story live musical did by casting Saturday Night Live alum Maya Rudolph as Ralphie Parker's mom.
First played by Melinda Dillon in the 1983 classic film, the role of "Mrs. Parker" is one of the more significant ones occupied by the many adults who surround Ralphie throughout his misadventures. The official press release offers very little information about Rudolph's casting, other than the fact that the Ralphie character will be 9 years old. However, as more casting announcements are released, hopefully A Christmas Story's creative team will deem it necessary to give Rudoplh's character a full name.
Executive produced by Marc Platt (Grease: Live, La La Land), and with a musical score and brand new songs written by the award-winning duo Benj Pasek and Justin Paul (Dear Evan Hansen, La La Land), A Christmas Story: The Musical will air Sunday, December 17th from 7 to 10pm ET. Per the usual practice established by previous television musicals, the east coast's broadcast will be live, while the west coast's version will be tape-delayed.