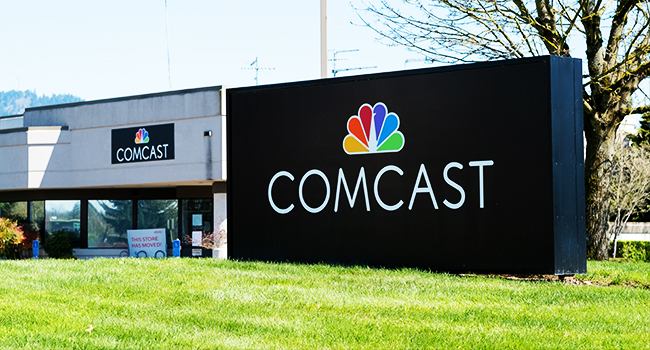 Fox is getting ready to sell Disney its entire slate of production assets, from movie studios to the rights to the X-Men, in a massive deal worth $52 billion in Disney stock and $14 billion in Fox debt. That is a heck of a lot of money. But Comcast is looking to try and crash the party with even more money, according to Reuters.
Comcast, which was another potential groom for Fox's production assets before Disney swept in, is reportedly looking to borrow upwards of $60 billion to make an all-cash bid for Fox's assets. Of course, Comcast already owns NBC and Universal Pictures and is only waiting for a regulatory decision from the government on AT&T's attempt to buy Time Warner, which should arrive in June, before it tries to crash the wedding and drive off with Fox in a Ferrari.
That said, borrowing nearly half what the company is worth for Deadpool and Simpsons reruns seems, on the surface, bonkers. But it's worth looking at the long-term strategy. The Fox-Disney deal puts Disney directly at odds with Comcast in a number of ways. Disney is launching its own streaming service, not to mention attempting to salvage ESPN's business model with ESPN+, and, if this merger goes through, it'll own a big piece of Hulu, to boot. So the company that owns some of the networks at the center of Comcast's most profitable product, cable television, is arguably trying to sell its networks directly to consumers, instead of cutting Comcast in on the action. And Comcast has spent years loudly griping about how streaming services strain their networks, which will be a factor as Disney is far less likely to strike a Netflix-like deal for "paid peering," since it has far more leverage in the form of popular networks it can yank off cable systems.
And if that weren't enough, Comcast's NBC and Universal Pictures would decidedly be second banana to Disney's TV and movie juggernauts. That may be a secondary concern, but it's still one that's likely on their minds. So depending on your perspective, this is either a Hail Mary to try and stop a threat to their business model, or the first salvo in a Wall Street fist-fight between one of the biggest internet and cable TV companies on the planet and one of the biggest entertainment companies on Earth. But don't expect it to be the last one, as entertainment companies start to do more streaming, and as cable companies try to keep their business model afloat.
(via Reuters)