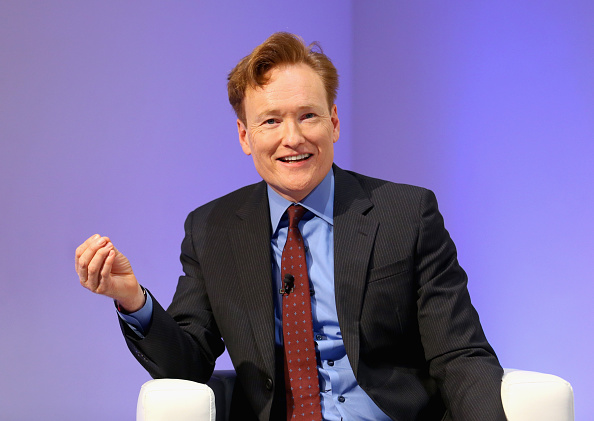 In addition to talking with Dax Shepard's Armchair Podcast about his worst guest in 25 years of late night, Conan O'Brien — whose Conan will be shifting formats in January — also spoke at some length about his stints at both The Simpsons and Saturday Night Live before explaining how he got David Letterman's old gig at Late Night (that story heavily features the presence of Friends' Lisa Kudrow, who Conan dated at one time).
Particularly interesting, however, was his work process during his three years at Saturday Night Live. His years at SNL (1987-1991) also happened to coincide with Tom Hanks' best years as host. Hanks appeared four times during that era, and when he received his five-timers jacket, Conan O'Brien was actually in the monologue, placing the jacket on Hanks.
That's appropriate, too, because Conan actually came up with two of Tom Hanks' best and most memorable SNL sketches, "Mr. Short Term Memory" and "Girl Watchers."

As Conan tells it on ArmChair Expert with Dax Shepard, however, Conan didn't write down sketch ideas so much as he tried out sketch ideas on his friends and SNL colleagues, ultimately turning the ones that worked with his friends into sketches.
"I wouldn't sit down with a piece of paper and write. I would do things for my friends," he told Shepard. One such example was "Girl Watchers."
"I remember once I was out in midtown Manhattan just walking around with Robert Smigel, Bob Odenkirk (Better Call Saul) and Greg Daniels (creator of The Office) and this attractive girl started to go by. I wasn't doing it so that [the woman] could hear me, but I'd be like, 'Well, she's lookin' pretty sweet.' And then the girl would walk by and I'd go, 'And my penis is too small and my head is too fat.' And [my friends] just started laughing, and I kept doing it. Those were the kinds of things I would say — very confident on the approach — but then with the same confidence, listing the reasons why she'd pass me by.

"They thought it was hilarious, and we all wrote it up together, and then Tom Hanks did it and we called it the "Girl Watchers." I remember at the time Al Franken (another SNL writer) asking, 'How did you come up with that?' and I just said, 'I don't know. I was just doing it.'"