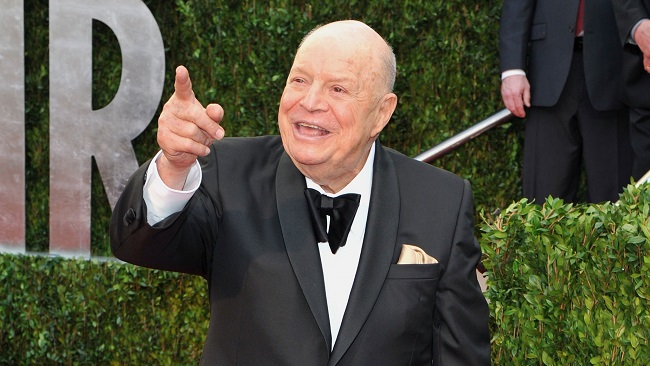 Don Rickles, the venerated comedian whose insult-filled performances endeared viewers of The Tonight Show Starring Johnny Carson and The Late Show with David Letterman and audiences throughout the world, has died at the age of 90. According to the Washington Post, the celebrated entertainer passed away in his Los Angeles home today after suffering from kidney failure. Rickles' publicist, Paul Shefrin, confirmed the news shortly thereafter.
Since 1995, Rickles had become well known among younger generations for voicing Mr. Potato Head in the Toy Story franchise. For their parents and grandparents, however, Rickles was best known as a stand-up comedian who frequented Johnny Carson's long-running iteration of The Tonight Show on NBC. That's where, after years of perfecting his act on the Las Vegas stand-up comedy circuit, he would frequently tease Carson, co-host Ed McMahon, the audience and his esteemed fellow guests.
Sometimes, as was the case during a rather famous 1976 episode of the late night talk show featuring crooner Frank Sinatra, Rickles' insult-laden stops were unannounced. In either case, these occasional visits were far and away some of Rickles' most popular contributions to comedy, as evidenced by how much his kissing Sinatra on the lips and teasing Carson to his face delighted the Burbank studio audience.
Of course, those who witnessed this feat live were in on Rickles' joke about he and Sinatra not knowing each other. The two had been friends for years. In fact, so the story goes, Rickles owed his career to Sinatra, whose acting in the 1957 film The Pride and the Passion the comic famously insulted to his face. "I want to tell you, the cannon's acting was great," Rickles joked during a show at a Miami Beach club called Murray Franklin's. "Make yourself at home, Frank. Hit somebody!" Sinatra laughed out loud at the insult and the rest is history.
As Kliph Nesteroff notes in The Comedians: Drunks, Thieves, Scoundrels and the History of American Comedy, Rickles didn't initially set out to be a comedian. A graduate of the prestigious American Academy of Dramatic Arts, Rickles' schooling allowed him to keep a foot each in the worlds of dramatic and comedic acting. This led to serious and silly roles alike in movies (Run Silent, Run Deep and X: The Man with the X-Ray Eyes, and, much later, Casino) and television (Get Smart and Run for Your Life). Yet the young actor always dreamed of becoming a lounge comic like his hero, Milton Berle, and once he started heckling back at the hecklers, his signature shtick for insult comedy was born.
Rickles wasn't the first American comedian to target the crowd. Before his tenure, Jack E. Leonard reigned supreme throughout the 1940s and '50s. When Rickles' star exploded in the late '50s, however, the young Queens, New York native's name and live act became synonymous with Las Vegas-style lounge comedians, roasts and other offshoots of the insult-heavy style.
As sharp and witty as Rickles' style of comedy was in its heyday, however, the stand-up refrained from delving too deep into material or language censors would question or otherwise remove from his television appearances and other outlets — especially during the latter chunk of his career. "I'm never hurtful," he told Today's Al Roker during an interview last October. "It's always something that's sarcastic but fun." The transition from his Tonight Show heyday to his later Late Show appearances included a few bumps along the way, as the Washington Post notes in its detailed obituary, though Rickles quickly adapted with the times.
Rickles is survived by his wife of 52 years, Barbara Rickles, his daughter Mindy Mann, and two grandchildren. His son, Emmy Award-winning television comedy writer and producer Larry Rickles, died from complications with pneumonia in 2011.
(Via Washington Post)