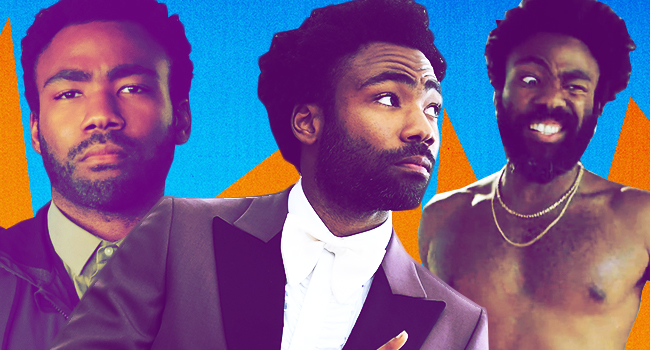 When Donald Glover graduated from the DeKalb School of the Arts in Georgia, his fellow students named him "Most Likely to Write for The Simpsons." But perhaps a more accurate (if hyper-specific) yearbook superlative would have been, "Most Likely to Create a Critically Acclaimed TV Show, Play a Scene-Stealing Gambler in Star Wars, Host SNL, and Release One of the Year's Most Popular Music Videos." Glover's accomplished all of that, in May alone.
Think of it this way: every studio wants to make a four-quadrant movie, which appeals to males under (#1) and over 25 years old (#2), and females under (#3) and over 25 years old (#4). Glover has four-quadrant appeal in a customary sense, but he's also tackling the four quadrants of entertainment: TV, movies, music, and online appeal. He's Jennifer Lopez having the number-one movie (The Wedding Planner) and number-one album (J.Lo) at the same time, plus two.
Let's break down the month Glover is having.
Television
With all due respect to Killing Eve and The Terror (which are both wonderful!), Atlanta is the best show on television right now. It's unpredictable (one week you get the surreal horror of "Teddy Perkins," the next Van is trying on Drake's clothes), hilarious (young Earn on Dragon Ball Z: "My mom saw the black guy with red lips and now she says it's racist"), and poignant. Atlanta — which would be unbearably tragic (Earn, Paper Boi, and Darius sitting on a couch with a Confederate flag behind them…) if it wasn't uproariously absurd (…and two rows of naked, pasty frat boys in front of them) — is so good that even the show's most frequently employed director Hiro Murai, who hasn't made a feature film yet, is being called the "filmmaker of the year." Oh yeah, and Glover not only hosted a well-received SNL, but, as Childish Gambino, he also had the rare honor of being the musical guest, too (more on that later). There was even a ratings boost, which is the Glover bump in action. Unfortunately, Atlanta's season two finale is tonight, but that also means we're getting closer to…
Movies
There are two kinds of actors/actresses: those who are in a Marvel or Star Wars movie (75 percent of Hollywood), and those who aren't. Glover falls into the former camp. In Solo: A Star Wars Story, he plays the smoothest motherf*cker in the galaxy: Lando Calrissian. His name isn't in the title of the movie, but everyone knows Lando is the real star. He's got the Falcon (for now), he's got the tour, and most importantly, he's got the cape. Glover is the perfect choice to play the iconic character, and honestly, the only one. Lando is charismatic but complicated, a con man you can't help but love. Solo is Glover's biggest theatrical role to date (no offense, Alexander and the Terrible, Horrible, No Good, Very Bad Day), and will be until he voices Simba in The Lion King remake. Glover is successfully balancing the fine line between the mainstream (so, Disney) and doing what he wants in other aspects of his career.

Music