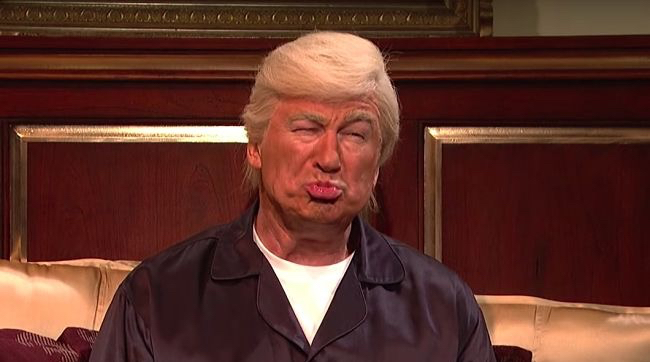 This week, Alec Baldwin said that impersonating Donald Trump on SNL is "agony," adding that he "can't" even anymore. (It's 2018's official slogan.) Well, he's going to have to at least one more time: the president went after the Emmy-winning 30 Rock star during an — when else? — early morning Twitter rant, calling his career "dying" and "mediocre," and also his name is Alex now.
"Alec Baldwin, whose dying mediocre career was saved by his terrible impersonation of me on SNL, now says playing me was agony," the president angrily tweeted before most of the country was awake and had to greet another terrible day. "Alec, it was agony for those who were forced to watch. Bring back Darrell Hammond, funnier and a far greater talent!" Two things:
1. Poor Taran Killam. (This isn't the first time Trump has praised Hammond's performance — in 2015, he called his impression "excellent.")
2. That wasn't the original tweet. This was.
It said more or less the same thing, except Trump got Baldwin's name wrong, misspelled "dying" as "dieing," and referred to himself as "DJT." Trump deleted that tweet, wrote something about the United States "losing many billions of dollars on trade with virtually every country it does business with," then tweeted about Baldwin again, this time without typos, which would be a weird thing for the president to do, if the word "weird" meant anything anymore. TGIF.
Baldwin has since responded to Trump's response to Baldwin's comments (…).