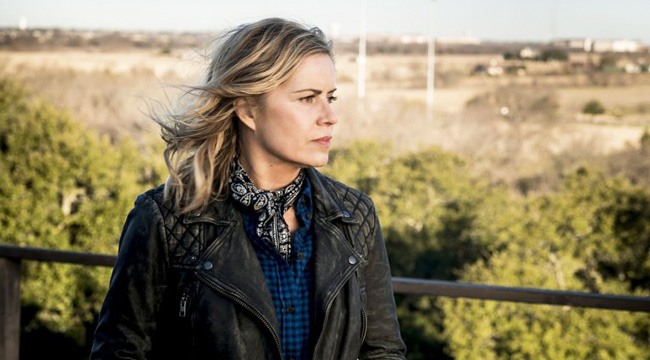 Top on the list of wants among the Fear the Walking Dead audience over the last year is the desire to see Madison Clark return to the series. The character, played by Kim Dickens, was presumably killed off the series midway through the fourth season when she was trapped in a fire. We did not, however, see her officially die, which has left the door open — in the minds of some fans, anyway — for her return.
Recently, the series itself has — either intentionally or inadvertently — fueled rumors of Madison's return with a series of life-affirming messages written in trees discovered by Madison's daughter, Alicia. In the midseason premiere, Alicia vowed to discover who is writing the messages, and Alicia also said that they make her think of her Mom. That was enough in and of itself to fuel rumors of Madison's return among Fear's fanbase.
This week, the official The Walking Dead Twitter account stoked those rumors with a very ambiguous tweet:
That's an image of Madison from season 3 of Fear the Walking Dead. But what does the message — "This is as close as we can come atm" — mean? It could simply mean that the best thing the social media account can do for fans of Madison is to show a picture of her. However, the "atm" — or at the moment — suggests the possibility that Fear could be working on a deal to bring Madison back at a moment later in time. The picture, after all, features Madison standing near barbed-wire fence, and there is barbed wire drawn on at least one of the trees some believe she is using to write messages to her daughter.
Could it be? "We will find out who that person is," showrunner Andrew Chambliss recently said, "and people will just have to watch to find out the answer to that question."
Kim Dickens, of course, expressed some disappointment when she was originally written out of the series, saying that it was one of her favorite acting experiences. However, she has not ruled out the possibility of returning to the series, if asked, although according to Dickens, "as far as I know, [Madison] is dead."
Source: Comicbook.com