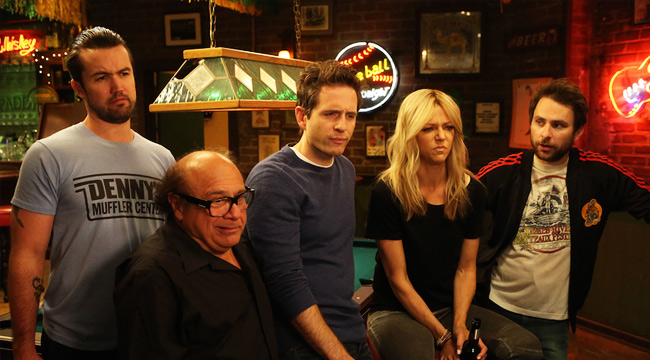 FX Networks announced fall premiere dates of some of its most popular and highly anticipated series on Thursday. First and foremost, season 13 of It's Always Sunny in Philadelphia will premiere on FXX Wednesday, September 5 at 10 p.m. — and good news for Glenn Howerton fans because Dennis will indeed be returning to the long-running comedy's lucky number 13. Earlier this year, even Howerton himself wasn't sure if his character was coming back.
Although the role will be limited as Dennis takes on the new role of father in North Dakota, while the rest of the gang "return to their duplicitous, scheming ways at Paddy's Pub." More from IndieWire:
Even without Dennis Reynolds, the Gang has its hands full as Charlie hopes to have a child with The Waitress, Mac sets out to understand his newfound sexuality, Dee takes feminism to new heights, and Frank goes to great lengths for the Gang to experience the greatest moment in Philadelphia sports history – an Eagles Super Bowl victory.
American Horror Story will likewise return on Wednesday, September 12 at 10 p.m. on FX for the horror anthology's eighth season. The theme of the yet to be named season will focus on the long-awaited Murder House–Coven crossover, which series creator Ryan Murphy has been teasing for years now. Murphy also revealed back in April that the upcoming season will take place 18 months in the future.
Finally, Kurt Sutter's Sons of Anarchy spinoff, Mayans M.C., will premiere on Tuesday, September 4 at 10 p.m. on FX. Judging by this season 1 "backstory teaser" it, uh, definitely looks like a Sons of Anarchy spinoff!
FX has also picked up a new, half hour drama series called Mr. Inbetween, created by and starring Scott Ryan. Ryan plays a character named Ray Shoesmith, "a father, ex-husband, boyfriend and best friend: tough roles to juggle in the modern age. Even harder when you're a criminal for hire." The date is TBD but it will be premiering sometime in September.