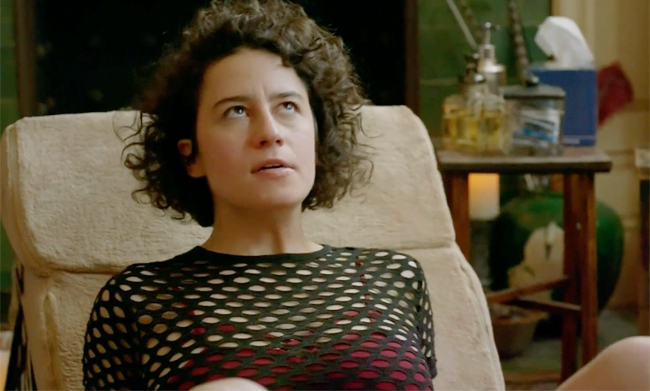 Georgia is one of a handful of states that recently passed restrictive abortion legislation, and while most of the attention has been on Alabama — whose new laws are more strict than most — the Peach State has sent shockwaves through the entertainment industry. That's because Atlanta has become a second one of Hollywood's favorite places to shoot, thanks in part to liberal tax incentives. That may change: Netflix recently spoke out against the new laws, threatening to pull productions if they stay in place.
One person who was way ahead of everyone else is Ilana Glazer. The Broad City co-creator is on an upcoming episode of Netflix's Patriot Act with Hasan Minaj, and a new clip, highlighted by The Hollywood Reporter, finds her talking about the recent attempts to challenge Roe vs. Wade.
"I'm paralyzed in fear and depression over it," Glazer told Minaj, then said that she wound up relocating an upcoming movie when her producer told her the laws were going to pass. "Before I saw it in the news, she sent me this thing: 'We should move our movie from Atlanta to New Orleans or just in New York.'" The law passed in Georgia bans abortions as early as six weeks into pregnancy.
"I was like, 'I don't want to shoot there,'" Glazer continued. "Film and TV is such an advertisement for the city and for the state that it's in and I just don't want to be there and support it." Still, she knows that may punish crew members who live or even relocated there for work. "It sucks because there are people there — 75 percent of the people are down for this. … So it sucks to punish those people, but I guess you have to make a move to make a statement."
Glazer is one of many in the industry who have condemned Georgia's anti-abortion legislation, including Jason Bateman, Amy Schumer, and Alyssa Milano. Atlanta has become home base for countless productions, including Marvel films, while the state also plays home to The Walking Dead. According to Market Watch, more than 300 businesses relocated to the state to take advantage of the industry boom, which, last year, played host to 455 productions.
(Via THR)