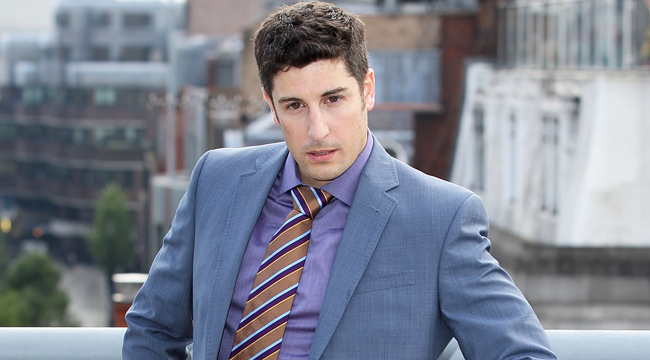 American Pie and Orange is the New Black star Jason Biggs is no stranger to controversy when it comes to Twitter. Several years ago, he caught flack for tweeting about a dead Bachelorette contestant and also made a bad Malaysian Airlines joke a few years back only an hour after one of their planes crashed (he subsequently had a meltdown over the backlash and was eventually forced to apologize).
What many may not not realize, however, is that it Jason Biggs' tasteless tweets eventually got him fired from a job, which has had the effect of changing the way he's tweeted since (he actually spends more time on Instagram these days). "I got in trouble [on Twitter] a lot," he said during this week's live episode of The Armchair Expert podcast with Dax Shepard. "And I took the stance for a long time of, like, 'whatever, f**k you, I'm not doing anything wrong. And mind you, this sort of coincided with my last years of drinking [Biggs is now sober.] My brain was pickled, and I definitely had a sort of combative side to me that I think the booze and drugs obviously" exacerbated the problem.
"I was let go from a job," Biggs confessed. "It was for real. I'm fine with it now, but I think it really f**ked me up. And for awhile, initially, I didn't think I did anything wrong … but the truth of the matter is, I f**king did it … it f**ked me up."

The job his Twitter antics cost him was not Orange is the New Black (he really did leave that show because his character no longer fit in the show's plans). The job he lost was on Nickelodeon Teenage Mutant Ninja Turtles, where he voiced Leonardo (he was replaced by Seth Green). Basically, it was a series of tweets that cost him a job he'd had for several years — one about the Pope, the Malaysian airlines one, and one about doing something obscene to Paul Ryan's wife, among others.
"It was enough to get a lot of people calling Nickelodeon … I knew they weren't thrilled with them. That should've been enough. It wasn't. I tweeted more. I doubled down, and they were like, 'We can't do this anymore. Our phone is literally ringing off the hook." So, Nickelodeon fired him.
"It really traumatized me," Biggs told Shepard, though he admitted that, in the long run, "it was a really good thing" because he realized he needed to stop being provocative on Twitter if he wanted to continue his career. Around the same time, Biggs also decided — after his wife, Jenny Mollen, got pregnant with their first child — that he also had to get sober, because the alcohol and cocaine (among other drugs) had gotten to be a problem for the actor.
Biggs was mostly recently seen in the VOD satire Dear Dictator starring Michael Caine, Katie Holmes, and the man who replaced him on Teenage Mutant Ninja Turtles, Seth Green.