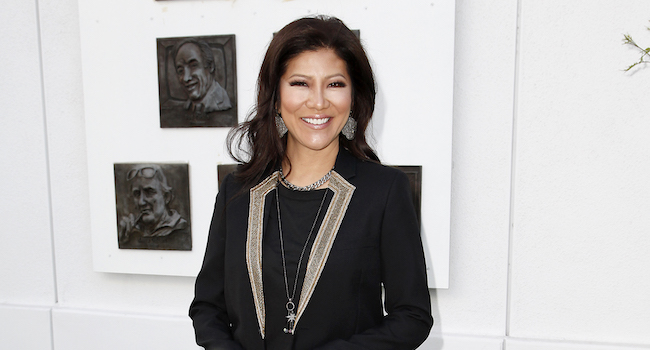 No one was sure when Julie Chen would return to the airwaves after her husband, Les Moonves, was ousted as CEO of CBS in the wake of more sexual misconduct allegations. The answer turned out to be about four days.
As per Variety, Chen appeared Thursday night on the latest live episode of Big Brother, where she resumed her job as host — a position she's held since its debut in the year 2000. Chen never brought up the fact that her husband has been accused by multiple women of sexual harassment and assault over the last few decades. She did, however, slip in a subliminal note of support when it came time for her sign-out.
"From outside the Big Brother house, I'm Julie Chen Moonves. Good night," she said.

Though Chen has not publicly commented on her husband since last week's occurrences, the fact that she used her full married name seemed to echo comments she made after the first wave of allegations, which emerged in July.
Back then, the TV personality stood by her husband, quickly taking to Twitter. "Leslie is a good man and a loving father, devoted husband and inspiring corporate leader," she tweeted in July. "He has always been a kind, decent and moral human being. I fully support my husband and stand behind him and his statement."
Chen's return to The Talk, on which she's appeared since its start in 2010, may be more awkward than her latest Big Brother appearance. Chen has sat out this week's episodes, all while her co-hosts — including Sara Gilbert, Sharon Osbourne, Sheryl Underwood, and Eve — have all supported transparency in CBS' investigation into the allegations against Moonves.
"How are women ever going to feel comfortable in the workplace if they still think that power and money will be held over their heads?" Osbourne said on show Tuesday. "It's never going to end. It shouldn't be allowed for anybody to have the verdict kept sealed. It's not fair to women. It will never end."
When she finally returns to The Talk, Chen will surely have to do more than drop a surname.
(Via Variety)