BBC America's 'Killing Eve' first framed itself as procedural: a show about assassins and the UK's Secret Intelligence Service that attempts to take them down. More than that, though, the show tangoed through an elaborate cat-and-mouse game between Jodie Comer's assassin and Sandra Oh's MI6 agent. This season, that game evolves for the better, and our weekly coverage will keep an eye on how this show's transforming, and it's only growing bolder with the passage of time.
Killing Eve's third-season premiere episode, "Slowly Slowly Catchy Monkey," barges out of the gate, as expected, with a great deal of focus on its central pairing. As I wrote in my review, there will be a heavy skewing over the next several episodes towards this being The Villanelle Show, so get ready for that. (Eve is definitely still present, but the show spends a ton of time on Villanelle's development.) We'll talk about Villanelle in a minute, but first, the show catches up with Eve feeling understandably traumatized after what went down in Rome. Much of her airtime gets devoted to an unexpected (and downright traumatic) sendoff for a very beloved character, Sean Delaney's Kenny. So obviously, we need to talk about Kenny. We also need to talk about the terrible joke that comes to mind here, which is that Killing Eve's evoking a repetitious line from early South Park seasons.
Yes, they killed Kenny, those bastards.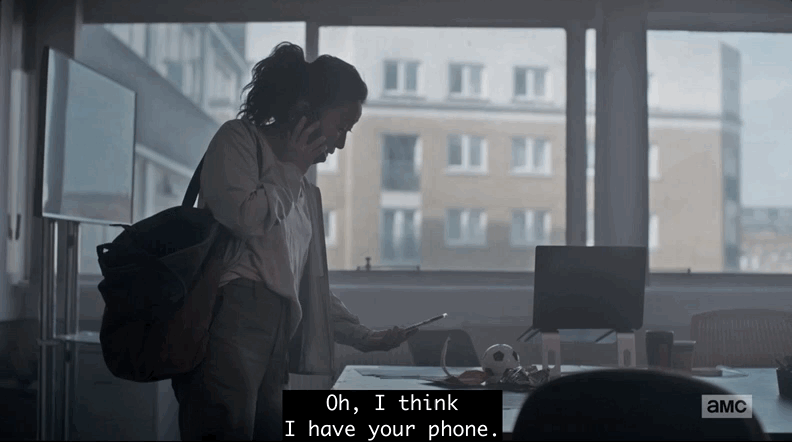 God, not Kenny. It's just brutal, man, especially after Carolyn lectured him about how "life is just a series of trade-offs." I feel so terribly about this development that I need to devote the entirety of this recap's (reasonable) GIF bandwidth to some lovely moments that Eve shared with Kenny before he left the building. These were wonderfully wacky moments (the show's penchant for morbid humor is still strong) with a drunken Eve giggling over sending him a toilet-paper text — hey, we all cope with trauma in different ways — and Kenny tracking her phone and scaring the bejesus out of her before they bonded while sh*t talking MI6. How great was Sandra Oh as Drunk Eve? Spectacular.
What are we to make of new head writer Suzanne Heathcote's decision to kill off a fan-favorite character in this premiere? It's a brash move and a pivotal one. Kenny was apparently digging into the Twelve in his new capacity as an investigative journalist, and the Twelve meant to send a message. Further, it feels like a sacrificial move by the show after Eve survived being shot by Villanelle in Rome. Like, someone who meant a lot to fans needed to die, which sets the tone for the unexpected this season (anything can truly happen, and the show will spare no one). Also, we can wonder if Kenny's death might propel Eve back into intelligence-agent action when Carolyn clearly wants her back at MI6. That could go either way, really.
Meanwhile, Eve's very clearly wanting to literally hide in a kitchen to continue healing. Yes, she eventually grows frustrated with the way that her fellow kitchen employees talk about relationships that only remind her of Villanelle. She's also very clearly able to see her own "stupid"-ness while lecturing a guy about not being able to read the signs of his own non-relationship. It sucks to see yourself reflected in a mirror like that, but maybe that's Eve working some stuff out, kinda like self-therapy through projection. Tearing apart bloody meat also probably feels a little therapeutic, as insane as that would sound on many other shows.
Now onto Villanelle's antics this episode, which begin with her wedding (!) to a wealthy Spanish woman. Since this is Killing Eve, the ceremony ends in a grand throwdown, and we meet Villanelle's maker, Dasha (Dame Harriet Freaking Walter), who wants to lure her back into the Twelve. Every wedding should end like this, right?
Through these interactions with Dasha, we get some delicious, heaping scoops of Villanelle's amplified personality that a lot of people were probably missing. She's one of my favorite sociopaths, after all, and she hates being called Oksana, so she's Villanelle forever. She and Dasha are so good at mocking each other, and Villanelle's ego performs some lovely maneuvers in this episode. There's some really enjoyable back-and-forth where Dasha insists that her "work remains totally untouchable," and that assassins study her kills. Villanelle's not having any of that talk, but she ends up using Dasha's signature while executing a hit in a shop that sells paprika.
It's left open to interpretation whether Villanelle intentionally copied Dasha's move from the 1970s scene, but yeah, it sure seems like that's the case? She walks away from this kill while deeming herself "untouchable" and wearing a cocky grin, and she had to have known that word of the paprika move would get back to Dasha. Whether or not she meant for this powder-method to mock or pay tribute to Dasha, well, that seems a little bit ambiguous. Who knows? Eve wants something from Dasha, and Dasha wants something from Eve, so nothing might be said of this imitation ever again.
A few loose ends here from some of the Killing Eve men:
– Konstantin's on the scene again, thank goodness. He's being relatable with family issues (finally) and unrelatable while juggling three warring cell phones. It's good to see the guy, even with that foreboding time-to-go-fishing note. Yeah, I hate it when I see that scrawled on a take-out menu, but he seems down for what was (and is) to come.
– Niko, god. He's Number Two on the "characters I feel most sorry for this episode" list. The man is nursing some heavy PTSD over there, and rightfully so after what happened to Gemma in that storage unit. He's also correct in that he deserves more than Eve can offer him, and what a mess. Niko deserves some freedom and relief from the madness, but after what we saw happen to Kenny, I'm not sure that anyone will see happiness this season. Well, Villanelle's determined to make her own happiness, but we'll see how that works out as her story continues to unfold. It's damn good to have Killing Eve back.
BBC America's 'Killing Eve' airs on Sundays at 9:00 PM EST with simulcasting on AMC.