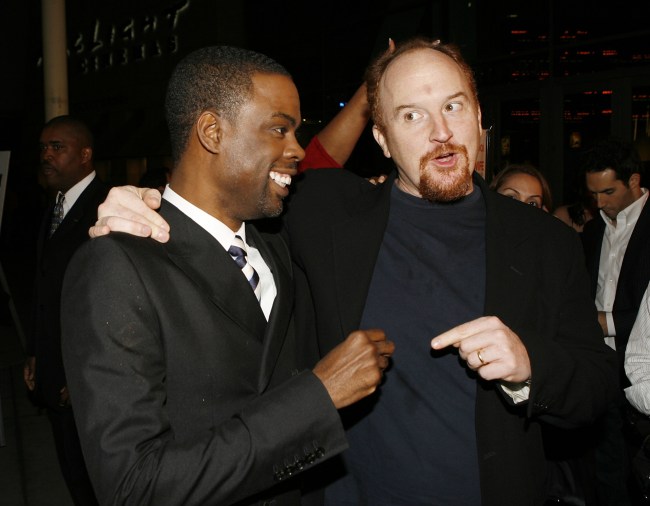 The fifth season of Louie premieres tonight on FX at 10:30 p.m. EST. This is wonderful, especially because the 47-year-old stand-up comedian's phenomenal success came much later than it did for others of his generation. He deserves it all and more.
Louis C.K. owes much of it to his intelligent humor, dark-ish demeanor, and incessant work ethic, but his longtime friend and collaborator Chris Rock is just as responsible. If fact, if Rock had never pressured Louis to stop writing for others (including Rock) and work for himself, tonight's new episode of Louie wouldn't be happening. And that would suck.
"Wow, I Made Louis Laugh!"
The two met on the New York comedy club circuit in the '90s. Rock was already famous because of Saturday Night Live. Louis, however, had mostly worked behind the scenes on Conan O'Brien and David Letterman's late night talk shows.
Despite the disconnect, Rock surprised Louis during a set. Louis told the story at length during a 2006 interview with the comedy blog A Special Thing:
I remember the way I really met him was I was watching him do a set, and I had never even really remembered having a conversation with him before. We had been in a lot of the same clubs, he had come off of SNL and everything, and he did a joke and I laughed really hard, and I remember him saying from the stage, "Wow, I made Louie laugh. That makes my day." Something like that, and I was like, "That's weird." Then he came off after his set and we became friends like in this one night.
They soon became friends, professional and otherwise. The two comedians had come together as a similar point in each others' lives (Rock is only three years older than Louis), and their varied professional experiences meshed well.
That's probably why Rock called Louis first when HBO offered him his own show in 1996. Rock wanted him to serve as the head writer and producer of The Chris Rock Show, but Louis had other plans:
So he called me right before I went to Dana and I had quit Letterman, and he said, "Don't do Dana's show, come work on my show."

And I said, "I'm doing 'The Dana Carvey Show' on ABC and I'm the head writer and producer, this is like… Why would I do your f*ckin' HBO show?"
So, Louis joined Carvey and a slew of other talented writers at ABC to help run The Dana Carvey Show. Considering the two show's respective episode counts (seven for Carvey, 55 for Rock), you can already see where this is going.
From Cancellation To The Emmys
Louis might have torpedoed Jimmy Fallon's audition for The Dana Carvey Show, but the tables were turned when ABC cancelled it after seven episodes. Sure, his resume included some big names, but now he had nothing.