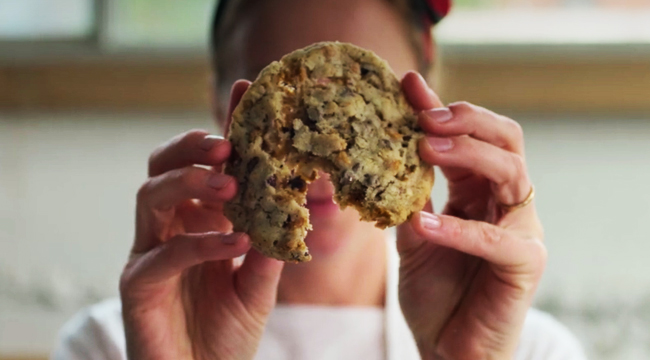 Even with an already extensive archive of shows and movies, it seems like every week, a wide variety of titles come to Netflix, along with a few that end up disappearing. It can be tough to keep up with what needs to be binged at the moment. That's why we're bringing you a round-up of what's new to Netflix and what's departing this week of April 14th, including Netflix's reboot of a beloved sci-fi series and new episodes of a delicious food series.
Lost In Space, Season 1 (all episodes streaming 4/13)
On a mission of colonization in the future, the Robinson family is forced to crash land on an unfamiliar planet and struggle to survive in a dangerous environment. Viewed as a highlight of the month, the reviews for the '60s TV show reboot seem to be positive about its Robot and little else. But for viewers looking for some sci-fi popcorn fare to stream, it's still enjoyable, even if the beginning takes a while to get Parker Posey's Dr. Smith and Robot together with the family. Thankfully, the 1998 Matt LeBlanc-shooting-spiders adaptation is also on Netflix.
Chef's Table: Pastry, Volume 4 (all episodes streaming 4/13)
There's nothing quite like rich, beautiful food TV shows to make you hungry. It almost seems better than seeing food in real life. The Netflix original Chef's Table serves up more tantalizing episodes with its fourth volume, a batch that specifically focuses on the wonders of pastries. The first episode focuses Christina Tosi, founder of the modern New York dessert institution Milk Bar, and the series moves through three more inventive pastry experiences and the stories of its owners. It's an excellent entry in one of the best food shows on Netflix.
I Am Not An Easy Man, (film streaming 4/13)
A handsome, serial womanizer/sexual harasser bumps his head and wakes up in a world where every gender dynamic between men and women have been swapped. It's a comedic plot that feels little like a Twilight Zone episode, but once the film gets past the schtick-y social commentary in its first 30 minutes, it actually offers a pretty interesting perspective on our world. It's a foreign film worth checking out that could get lost in the shuffle of Netflix additions.
Here's a full list of what's been added in the last week:
Avail. 4/9/18
AMO: Season 1– NETFLIX ORIGINAL
Avail. 4/10/18
Greg Davies: You Magnificent Beast — NETFLIX ORIGINAL
Avail. 4/12/18
Pickpockets — NETFLIX FILM
Avail. 4/13/18
Chef's Table: Pastry — NETFLIX ORIGINAL
Come Sunday — NETFLIX FILM
I Am Not An Easy Man — NETFLIX FILM
Lost in Space: Season 1 — NETFLIX ORIGINAL
The Magic School Bus Rides Again: Season 2 — NETFLIX ORIGINAL
And here's what's leaving next week, so it's your last chance:
Leaving 4/15/18
Happy Tree Friends
Leap Year
Leaving 4/16/18
Son of God
Leaving 4/17/18
Z Storm
Leaving 4/20/18
The Exorcism of Molly Hartley
Leaving 4/21/18
The Prestige