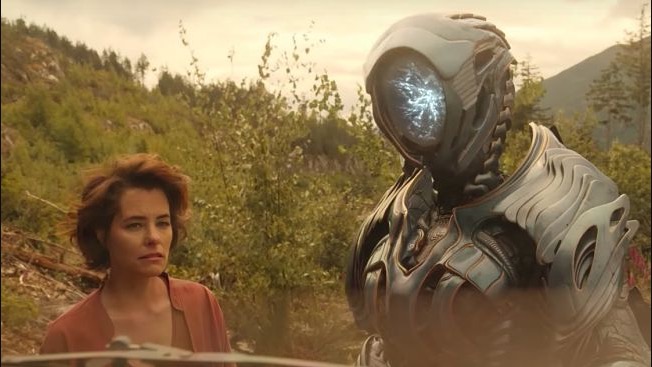 It can be tough to keep up with everything getting added to and slashed from Netflix, even on a week-to-week basis. March saw the arrival of some new seasons of gems like Jessica Jones and Love, while Archer entered the Danger Zone and left the Netflix library. April is no exception, as a bevy of new and original movies and series — including Sin City and Netflix's reboot of Lost In Space — will join the ranks to fill the gaps of many removed films, such as the classic Shawshank Redemption.
ARRIVING
The first season of Netflix's Lost In Space (available 4/13)
Netflix announced its reboot of the familiar '60s series on the heels of its Fuller House success way back in 2016, and made its imminent arrival official with a trailer earlier this month. After the critical thrashing that Netflix's Cloverfield Paradox took, audiences could be looking at any of the service's science fiction content skeptically. But with Parker Posey as the new Dr. Smith, it should be at least worth a look — assuming the show includes a worried robot with flailing arms.
The Netflix premiere of 6 Balloons (available 4/6)
Don't let its stars fool you: 6 Balloons does not seem like a fun, comedic watch. Debuting at SXSW, the tense drama focuses on a woman (Broad City's Abbi Jacobson), her heroin-addicted brother (Dave Franco), his two-year-old daughter and their quest to secure a place in a detox center. With a new Netflix film debuting every few days, many tend to get lost in the shuffle, but with a few solid critical reviews already, this one seems worth bumming us out on a day we might be a little too happy.
DEPARTING
The Shawshank Redemption (4/1)
Netflix has been in the habit of adding some great films and seeming to drop them just a few months later. As outlined below, a ton of solid titles will be lost this month, with The Shawshank Redemption being a stand-out casualty. The Frank Darabont drama about a man's (Tim Robbins) time behind and beyond bars still stands as the top-rated movie on IMDb (ahead of The Godfather, which is thankfully still on Netflix), so this is definitely one worth catching for anyone who nods along uncomfortably while friends discuss the greatest films of all time.

Here's the full list of titles coming to Netflix in April:
Avail. 4/1/18
A Sort of Family
Along Came Polly
Bad Boys
Battlefield Earth
Beethoven's Christmas Adventure
Big Time
Body of Lies
Cabin Fever
Cabin Fever 2: Spring Fever
Cats & Dogs
Cold Mountain
Dare to Be Wild
Deep Blue Sea
Fish People
Friday Night Lights
Jackass 2.5
Life Is Beautiful
Looney Tunes: Back in Action
Mortal Kombat
Nancy Drew
Disney's Pirates of the Caribbean: Dead Man's Chest
Scarface
Seven
Sin City
Speed Racer
Terminator 3: Rise of the Machines
The Duchess
The Family Man
The Flintstones
The Flintstones in Viva Rock Vegas
The Iron Giant
The Lost Boys
The Queen of the Damned
The Spy Next Door
Wakfu: Season 3 — NETFLIX ORIGINAL
Avail. 4/2/18
La Piloto: Season 1
Avail. 4/3/18
Fary Is the New Black — NETFLIX ORIGINAL
Avail. 4/5/18
Behind The Curtain: Todrick Hall
Despicable Me 3
Avail. 4/6/18
6 Balloons — NETFLIX FILM
Amateur — NETFLIX FILM
Fastest Car: Season 1 — NETFLIX ORIGINAL
Money Heist: Part 2 — NETFLIX ORIGINAL
My Next Guest Needs No Introduction With David Letterman: JAY-Z — NETFLIX ORIGINAL
Orbiter 9 — NETFLIX FILM
Ram Dass, Going Home — NETFLIX ORIGINAL
Sun Dogs
The 4th Company — NETFLIX FILM
The Boss Baby: Back in Business: Season 1 — NETFLIX ORIGINAL
Todo lo que sería de Lucas Lauriente — NETFLIX ORIGINAL
Troy: Fall of a City: Season 1 — NETFLIX ORIGINAL
Avail. 4/7/18
24 Hours to Live
Avail. 4/9/18
AMO: Season 1– NETFLIX ORIGINAL
Avail. 4/10/18
Greg Davies: You Magnificent Beast — NETFLIX ORIGINAL
Avail. 4/12/18
Pickpockets — NETFLIX FILM
Avail. 4/13/18
Chef's Table: Pastry — NETFLIX ORIGINAL
Come Sunday — NETFLIX FILM
I Am Not An Easy Man — NETFLIX FILM
Lost in Space: Season 1 — NETFLIX ORIGINAL
The Magic School Bus Rides Again: Season 2 — NETFLIX ORIGINAL
Avail. 4/15/18
Lakeview Terrace
Seven Pounds
Avail. 4/17/18
The Chalet: Season 1 — NETFLIX ORIGINAL
The Honeymoon Stand Up Special: Collection — NETFLIX ORIGINAL
Avail. 4/18/18
Friend Request
Pelé
Avail. 4/19/18
Charité: Season 1 — NETFLIX ORIGINAL
Chasing The Dragon
Avail. 4/20/18
Aggretsuko: Season 1 — NETFLIX ORIGINAL
Dope: Season 2 — NETFLIX ORIGINAL
Dude — NETFLIX FILM
Kodachrome — NETFLIX FILM
Mercury 13 — NETFLIX ORIGINAL
Spy Kids: Mission Critical: Season 1 — NETFLIX ORIGINAL
Avail. 4/21/18
The Letdown: Season 1 — NETFLIX ORIGINAL
Avail. 4/24/18
Call the Midwife: Series 6: "Christmas Special 2017"
Kevin James: Never Don't Give Up — NETFLIX ORIGINAL
Avail. 4/25/18
Bill Nye: Science Guy
Psychokinesis — NETFLIX FILM
Avail. 4/27/18
3%: Season 2 — NETFLIX ORIGINAL
Bobby Kennedy for President — NETFLIX ORIGINAL
Candy Jar — NETFLIX FILM
Holy Goalie
The Man Who Knew Infinity
The New Legends of Monkey: Season 1 — NETFLIX ORIGINAL
The Week Of — NETFLIX FILM

Here's the full list of titles leaving Netflix in April:
Leaving 4/1/18
30 Days of Night
88 Minutes
Ace Ventura: Pet Detective
Ace Ventura: When Nature Calls
American Pie
American Pie 2
Apollo 13
Batman
Batman & Robin
Batman Forever
Batman Returns
Caddyshack
Charlie and the Chocolate Factory
Cool Runnings
Death Sentence
Dolphin Tale
Eagle vs. Shark
John Mulaney: New in Town
Never Let Me Go
Set Up
Small Soldiers
The Dukes of Hazzard
The Men Who Stare at Goats
The Pursuit of Happyness
The Shawshank Redemption
The Whole Nine Yards
Wild Wild West
Leaving 4/3/18
Starry Eyes
Leaving 4/5/18
The Hallow
The Nightingale
Leaving 4/12/18
The Emperor's New Clothes
Leaving 4/15/18
Happy Tree Friends
Leap Year
Leaving 4/16/18
Son of God
Leaving 4/17/18
Z Storm
Leaving 4/20/18
The Exorcism of Molly Hartley
Leaving 4/21/18
The Prestige
Leaving 4/22/18
Exit through the Gift Shop
Leaving 4/26/18
Kung Fu Panda 3
Leaving 4/27/18
Begin Again