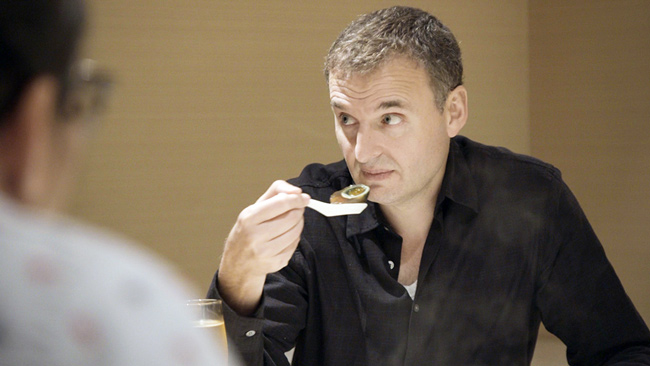 3. I'll Have What Phil's Having
1 season, 6 episodes | IMDb: 8.5/10
I'm a little biased on account of I've been to Phil Rosenthal's house, but let the record show that I was a big fan of both Phil and his show long before I took any bribes. Thing about Phil is, part of the reason I liked him in the first place is that he always seemed like the kind of guy who'd invite you over to his house way before I knew first-hand that he really is. Phil, who created Everybody Loves Raymond and must be worth unimaginable sums of money, is a kind of everyman Anthony Bourdain, and I think there's a tremendous value in that. He doesn't seem like an adventurous guy, and then he gets put into these situations where he's eating a pond loach or some crazy thing and he turns into a pretty adventurous guy. I won't restate what I've already written here, but the scene where Phil makes egg creams for his Japanese hosts goes right to the heart of what I find "meaningful" about the act of cooking, eating, writing and talking about food and travel with family and friends.
2. The Mind Of A Chef
5 seasons, 85 episodes | IMDb: 8/10
Mind of a Chef is a food show Anthony Bourdain produces for PBS, which is already a walk-off home run in my mind, combining as it does the Michael Jordan of food shows and my favorite network for food programming that's neither elitist fluff nor populist bullsh*t. Basically, Anthony Bourdain finds a moderately-known chef to play Anthony Bourdain for a whole or a half season (the first season's host is David Chang). Food porn, travelogues, historical stuff, interesting characters — it's Parts Unknown/No Reservations with some new blood. And the best part? The episodes are about 20 minutes long, which in my opinion is about optimal for Netflix food-show binging.
1. Parts Unknown
5 seasons, 36 episodes | IMDb: 8.7/10
Once upon a ti,me I was resistant to Bourdain, with his pretentious voiceovers and cool-guy cowboy boots — tell me about New York back when it was still dangerous, Mr. Bourdain! — but I've long since warmed up to him, and there's a reason I've compared virtually every show on this list to Bourdain's. He's the gold standard. You get food porn, aspirational travel stuff, famous chefs, and of course Bourdain himself. He's idiosyncratic, but the more you watch him, the more you like him. Netflix has five seasons to choose from.