I listen to a lot of podcasts, which often means listening to a ton of Marc Maron and Chris Hardwick, which is a mixed blessing. They're great interviewers, in that they both can get celebrities to really open up, but in both cases, it necessitates hearing Hardwick and Maron complain about their own lives and problems. That's interesting up to a point, but after 100-200 episodes, you feel like you know everything there is to know about Hardwick and Maron, and you have no interest in hearing about their lives anymore. Just their interview subjects.
At this point, a lot of those podcast episodes just kind of blur together, and it takes an extraordinary interview to really grab my attention. You know, one of those eye-opening interviews with celebrities who we don't know that much about, and who we come to learn aren't quite what we thought they were. For instance, last year, Dax Shepard was amazing on Maron, and after an hour with him, you really began to understand why Kristen Bell would end up with a great guy like him (plus, he told the awesome story about what a jackass Justin Timberlake was after the cameras stopped rolling on that Punk'd episode.)
Similarly, Rob McElhenney — the creator of the most hilariously misanthropic show on television — was not quite who I thought he'd be, either. He's a good, solid dude. He's grounded, smart, thoughtful, very self-aware, and he's had a fascinating, extraordinary life. I really encourage you to listen to the entire podcast.
That said, I know a lot of folks don't have an hour and a half to devote to a podcast, and I also know there are a ton of It's Always Sunny in Philadelphia fans around these parts, so I thought I'd break down the highlights.
1. Rob McElhenney not only grew up in Philly, but he grew up in the same neighborhood where rival cheesesteak places Pat's and Geno's reside, although Rob hates that Philly is better known for its cheesesteaks than for being the "birthplace of our nation."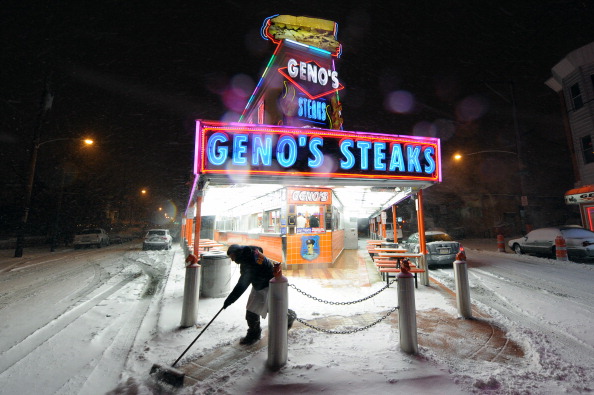 2. McElhenney has an absolutely wonderful and fascinating upbringing. He grew up mainly with his dad, but he was also close with his mom, who left the family when he was 7 or 8 "to find herself." She's gay, which was not the easiest thing in South Philly. But after three kids, she realized she was living a "lie." The twist here is that Rob's mom and dad remained (and still remain) close, even after his mom left and found a lesbian partner. They figured it out. In fact, they remained so close that after his dad divorced a second time, he moved in with his mom and partner in Jersey for a spell to collect himself.