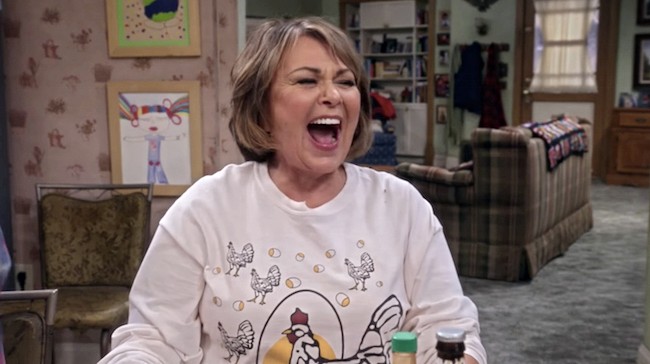 It's not always spoken of in the same breath as Seinfeld and Friends, but Roseanne was a massive hit. The comedy was one of the four most-watched programs on all of television for its first six seasons, and didn't drop out of the top-10 until season eight (season nine sunk out of the top-30, but people didn't know what they were missing). But that was over 20 years ago — was anyone, outside of She-Devil fans, still interested in catching up with the Conners?
Apparently!
Roseanne's two-part season 10 premiere, "Twenty Years to Life" and "Dress to Impress," was a big win for ABC. According to The Hollywood Reporter, "[t]he show averaged a 5.1 rating in the key demo and 18.1 million viewers, rising from the first half hour to the next." To put those numbers into context: a 5.1 rating in the important 18-49 demo is even higher than what 60 Minutes pulled in for its much-hyped Stormy Daniels interview. (Both involve Trump, though.)
Roseanne also scored the highest ratings for a comedy episode, of any show, since 2014; bigger numbers than the show's then-series finale in 1997, when ratings were very different (and much bigger); and "ABC's best results in the 1-hour time period since November 2006 in viewers and since November 2009 in young adults." It also trounced another recent popular sitcom revival, Will & Grace, which "only" pulled in a 3.0 in the demo and 10 million viewers overall.
The ratings prove what everyone should already know: people freaking love Laurie Metcalf.
(Via The Hollywood Reporter)