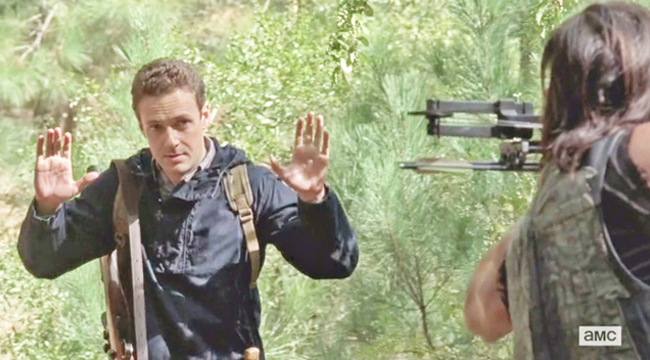 Spoilers for Avengers: Infinity War
Ross Marquand is best known for his role on The Walking Dead as Aaron, an original Alexandrian scout who inexplicably goes long stretches without appearing in an episode of the AMC series. Outside of The Walking Dead, however, he's probably best known for his brilliant micro-impressions.
Over the weekend, however, Marquand gained another major credit, appearing in a small but crucial role in Avengers: Infinity War, although most would be forgiven for not recognizing him in the film. He played Red Skull, originally portrayed by Hugo Weaving in Captain America: The First Avenger and thought to be dead in the MCU.
The surprise appearance of Red Skull in Infinity War answered an important question about his whereabouts in the MCU (he is now the custodian of the Soul Stone). It's a role that Marvel wanted to be kept under wraps, for obvious reasons, and Ross Marquand took his nondisclosure agreement so seriously that not even his The Walking Dead co-star, Danai Gurira (who plays Michonne) knew about it, even though she, too, is featured in Infinity War.

In fact, Marquand didn't even tell his own parents, as he explains to EW:
No. I didn't tell anybody. These NDAs on these things are no joke. I literally did not tell anybody until it was out. I told my friend who I brought to the premiere because she had to know how I got tickets, and I said, "I can't tell you who I'm playing, but I can tell you I am a part of this. But you can't tell anyone." It was just a few days before the premiere, and I said, "Would you like to come?" She said, "Of course," and I said "But you cannot tell anybody I am a part of this. I haven't even told my parents. I've told no one."
The role took him only one day to shoot, and as Marquand explained, he channeled Weaver's "iconic performance in The Matrix with the German accent he brought to the character with Red Skull."
It's not the first time that Marquand has been entrusted with a huge secret. He was also prevented from telling his closest friends and family about his role in The Walking Dead for about seven months. As Marquand told EW: "These NDAs put the fear of God in you."
Meanwhile, over on The Walking Dead, viewers who want to know about the future of that series won't get anything out of Marquand. They will simply have to rely on clues hidden in plain sight.
Source: EW