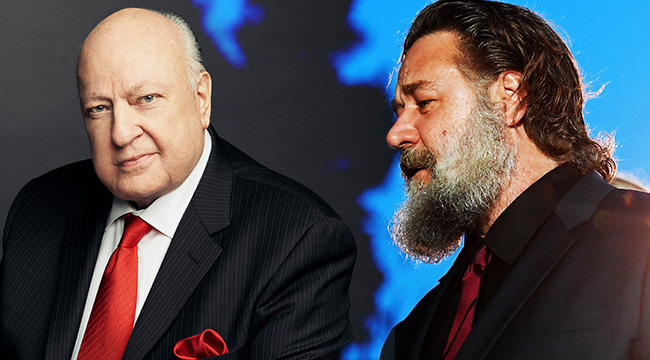 While Charlize Theron is going to play Megyn Kelly in a film about Fox News CEO Roger Ailes' fall from grace, a miniseries about the same subject is currently in the works at Showtime. Based on Vanity Fair writer Gabriel Sherman's biting book, and co-written with Spotlight's Tom McCarthy and produced by the team behind Get Out and The Purge, the limited series has been in the works since October 2016. Yet it wasn't until Monday that the first bit of casting news for the untitled show, and it's pretty freaking wild.
According to The Hollywood Reporter, Russell Crowe, the Australian actor of Gladiator and The Mummy fame, will play Ailes in the eight-episode miniseries. The announcement was made in a statement by Showtime CEO David Nevins:
"In many ways, the collision between the media and politics has come to define the world we live in today. We've seen this phenomenon depicted on screen as far back as the story of Charles Foster Kane, and it finds contemporary embodiment in the rise and fall of Roger Ailes. With Russell Crowe in the lead role, this limited series promises to be a defining story for this era."
An official summary from Showtime describes the Ailes miniseries as follows:
To understand the events that led to the rise of Donald Trump, one must understand Ailes. The upcoming limited series takes on that challenge, focusing primarily on the past decade in which Ailes arguably became the Republican party's de facto leader, while flashing back to defining events in Ailes' life, including an initial meeting with Richard Nixon on the set of The Mike Douglas Show that gave birth to Ailes' political career and the sexual harassment accusations and settlements that brought his Fox News reign to an end. Told through multiple points of view, the limited series aims to shed light on the psychology that drives the political process from the top down.
No word yet on whether Sherman and McCarthy's script will allow Crowe's Ailes to break the fourth wall and ask, "Are you not entertained?"
(Via The Hollywood Reporter)