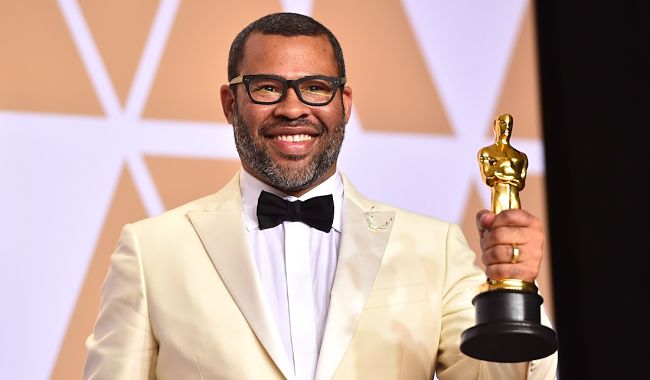 Indiana Jones fought them. Brad Pitt killed them. And now Jordan Peele is hunting them. Amazon announced that The Hunt, an original series about Nazi hunters, has been given a straight-to-series order. Set in 1977, the show follows "a diverse band of Nazi Hunters," according to Variety, who discover "that hundreds of high ranking Nazi officials are living among us and conspiring to create a Fourth Reich in the US. The eclectic team of Hunters will set out on a bloody quest to bring the Nazis to justice and thwart their new genocidal plans."
In a statement, Peele, who's attached as executive producer, said that when creator David Weil showed him a script, "I immediately knew that we had to be involved. Its cathartic. Its noir. It's frighteningly relevant. It's exactly what I want to see on television. I am thrilled to be working with Amazon in bringing this incredible vision to the world." The Hunt is the Oscar winner's second collaboration with Amazon, following an upcoming documentary series about Lorena Bobbit. It's also one of 745 projects he's working on, including Us, The Twilight Zone reboot, producing BlacKkKlansman, and Henry Selick's next stop-motion movie, where he'll be reunited with the Key to his Peele, Keegan-Michael Key.
But hopefully the Nazi-hunting takes priority.
(Via Variety)