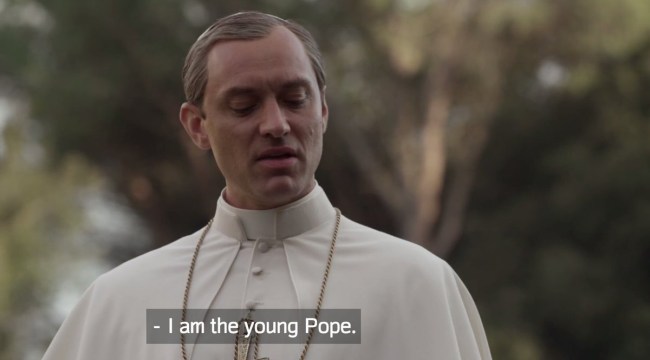 Jude Law is playing the Young Dumbledore in the upcoming Fantastic Beasts: The Crimes of Grindelwald, but even more importantly, especially to us fans of Diane Keaton playing basketball, the actor is also reprising his role as Pope Pius XIII (more like Pope Pius XXX) in The New Pope. We haven't heard much about the limited series since it was announced last year, but on Monday, HBO revealed that John Malkovich has joined the cast in an unspecified role.
A logline for The New Pope, as well as details on Malkovich's character, are being kept under wraps. Production on the new season begins in November in Italy… The New Pope teleplay is being penned by The Young Pope's Paolo Sorrentino, Umberto Contarello, and Stefano Bises. (Via)
With so much about The New Pope still unknown, it's on us to fill in the blanks. The biggest question is: will there be more kangaroos? Also, is Malkovich ("Malkovich!") the titular new pope? Because the last time we checked in on The Pope Who F*cks, he was having a heart/panic attack. Actually, I can answer both questions. Malkovich is probably the New Pope, and the kangaroo has been replaced by a rabbit. It won't end well for the bunny, either.
(Via The Hollywood Reporter)