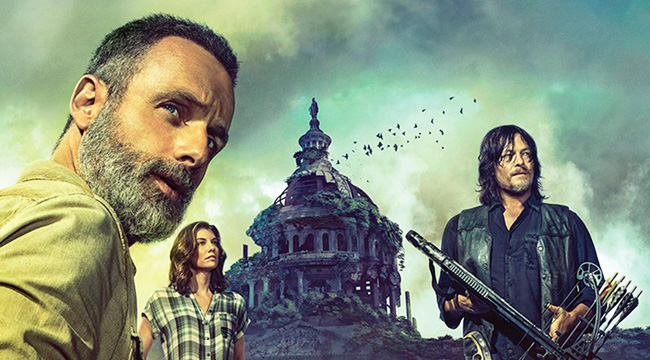 (WARNING: Seriously, major spoilers for The Walking Dead are below.)
This started as a rumor confirmed by only one outlet, Bleeding Cool news. There was a chance that this was a hoax, but if so, it would have been a truly elaborate one that involved mocking up fake letter hacks, posting them to social media, convincing another credible website of their authenticity, having the rumor confirmed by Image Comics publisher Eric Stephenson, and seemingly acknowledged but not denied by Robert Kirkman.
Well, it turns out that the rumor is true, so comic book readers should click away from this post if you don't want to be spoiled about the events of Issue #193, which arrives in stores on Wednesday. It is truly the biggest spoiler in the history of The Walking Dead comics, so I can't stress enough that those who are still reading the comics should avoid the remainder of this post.
The Hollywood Reporter has confirmed the below news — the The Walking Dead comics have come to an end with a surprise finale. Read on for the process of how this story developed, along with Kirkman's statement.
It really all began back in Issue #192, after Rick Grimes was killed off of The Walking Dead comics. Then, on Monday morning, Robert Kirkman dropped this very ominous tweet.
Well, #understatementoftheyear is no understatement at all, because after that tweet, a scan of the letter hacks from Issue #193 began circulating on social media. I've seen the letter hacks (but I cannot confirm their authenticity), which basically said, in part:
I'm upset, too. I'm going to miss it as much as you will, if not more so. It breaks my heart that I had to end it. and we have to move on,.. but I just love this world too much to stretch things out until it doesn't live up to what I want it to be.

I hope you. dear reader, know how much I appreciate the gift you have given me. I got to tell my story exactly how I wanted to, for 193 issues, and end it on my terms, with no interference at all along the way… at any point. That's such a rare thing, and it doesn't exist without the unyielding support this series got from readers like you. Thank you so much.
In other words, Issue #193 is the final issue of the comics. I won't spoil any details about the ending — that will have to wait until after the issue is released — but according to Image Comics publisher Eric Stephenson it is, indeed, the final issue, as he confirms to Bleeding Cool:
The series is concluding with the same finality and while that will no doubt be disappointing for some, in the big scheme of things, it's a remarkable achievement for Robert and his collaborators.
After Bleeding Cool surfaced this news, Robert Kirkman seemed to acknowledge it without denying the rumor.
On Tuesday, the Hollywood Reporter related this statement from Kirkman within the final pages of #193:
"I hate knowing what's coming. As a fan, I hate it when I realize I'm in the third act of a movie and the story is winding down. I hate that I can count commercial breaks and know I'm nearing the end of a TV show. I hate that you can feel when you're getting to the end of a book, or a graphic novel. Some of the best episodes of Game of Thrones are when they're structured in such a way and paced to perfection so your brain can't tell if it's been watching for 15 minutes or 50 minutes … and when the end comes … you're stunned.

"I love long movies for that very reason. You lose track of time because you went in convinced that you're going to be there for a long time, but the story moves at such an entertaining and engaging pace that by the time the movie's wrapping up … you can't believe it's already over. Surprise, it's over! All I've ever done, all a creator can really do … is tailor-make stories to entertain themselves, and hope the audience feels the same way. That's all I've ever been doing … and it seems to work most of the time."
This is massive. Robert Kirkman is ending the comic series rather abruptly after a sixteen-year run. What it means for The Walking Dead and The Walking Dead on AMC, obviously, is unclear. We'll update with more details as we learn them.
Source: Bleeding Cool