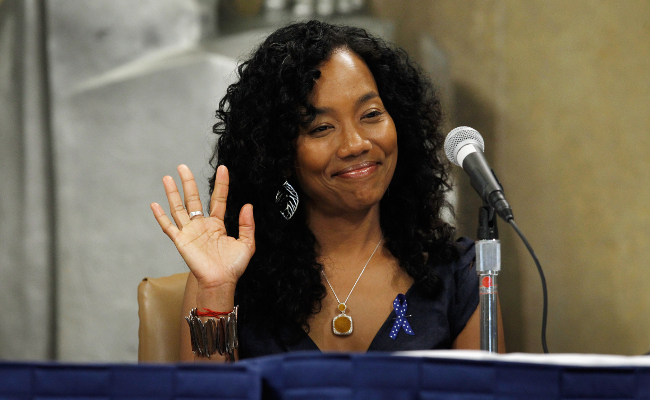 On July 18, Dominic West, Michael Kenneth Williams, Wendell Pierce and many other cast members from HBO's The Wire will reunite in Baltimore for WIRED UP!: A Celebration of the Spirit and Power of the People of Baltimore. Founded by Sonja Sohn and her castmates, the non-profit ReWired for Change offers support to the city's high-risk youth "before they are lost to the destructive circumstances of their everyday lives." As part of this year's Artscape festival, WIRED UP! is a free event held at the Lyric Opera House and will showcase four of Baltimore's "unsung heroes." And there will probably be plenty of discussion about The Wire, too.
For this event, Sohn and her co-stars from The Wire issued a statement about their ongoing purpose in giving back to the community that was represented in their critically-acclaimed series:
"One of the root causes of the Baltimore Uprising was a feeling that the people, particularly those living in marginalized communities, have not been listened to by the establishment. Their needs and demands for more jobs and policies that reflected their interests were not being addressed, which led to frustration that festered and became a powder keg, of sorts. As artists, we know the power – and necessity – of channeling that energy. Wired Up! is our attempt to create a platform for the people in a creative and inspiring way; to give voice to their experiences and to use creativity as way to inspire them to continue their journey of working for change in their city. By offering them a way to connect with one another, to community leaders and to advocacy groups, we feel we can truly wire people up, inspiring them to work towards their deepest desire for a better life, better neighborhoods and a better, more socially-engaged and community-connected city of Baltimore."
With the event two weeks away and following the release of The Wire on Blu-ray, we caught up with Sohn to discuss her role as Detective Kima Greggs, as well as the incredible lasting legacy of this powerful and influential series.
When you were starting out on The Wire, what did you think of your character and her story?
I was excited to play this black, lesbian cop because, to the best of my knowledge, at the time, there had not been a black lesbian on TV ever. And so I felt that I had an opportunity to give a face and a voice to this character, to a population of people who had not been represented in entertainment in a big way at the time. Since then, that's changed. But I will say that the daunting part of this for me was just playing a cop. I wasn't terribly excited about playing a cop. My relationship with cops, at that point in my life, was one that was a bit complicated and not very positive so, I wondered how I was going to… I knew that I had my work cut out for me in terms of bringing a human face to this cop. And so I stepped into a daunting task in that regard.
Was there any aspect, any part of her you could immediately identify with or grab onto to connect more?
With Kima, I think what I could connect with most is that she was highly personable and strong. She was someone who was very grounded in her convictions and principles. And she was unwavering in her commitment to this. That was where I found the deepest resonance with the character. The other way I found resonance with her is that — and this is what enabled me to play her as a cop, and through my research and riding along with cops, and reading cops who were very much like Kima in this way — Kima really wanted to protect and serve the people. She saw that there was a necessity. She saw that she had a genuine intention to protect and serve the people. Once she got into the police department, like a lot of the good cops in the show, she saw that intention. Despite her best intentions, there were forces at play that created obstacles for her to do the work that she felt she was committed and purposed to do. I had deep resonance for her, the character, in that I resonated with this walking through the world, my duty on some level is to serve, and that whatever job I have has to be connected to that element in my life.
Can you tell me what it was like for you going through the audition process?
Honestly, I auditioned for the role during a two-year drought. But it happened during a year where I just felt I was really at the top of my game in terms of auditioning. I was turning out a lot of great work, and it was just a matter of time. Every time I'd go into an audition, it was like, I was approaching every audition like my job was the audition. If I get the role, great. But I'm an actor, and the actor's job is to audition. Every time I get to perform, I'm working. So, I walked into this audition like I was walking into any other audition. I walked in, I did my job, and I walked out. The job was over at that point. If I did it, great, that's what I want. But if I don't get it? Great, I was happy with what I laid down in the room. I put myself in the mindset that, during the casting process, walking in, I'm doing a job. I did the job, I'm done. Next job up. What is it?