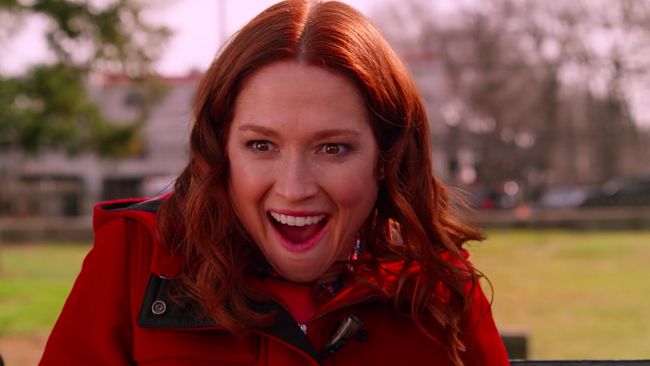 There is no show on TV (or streaming service, whatever) that brings me more joy than Unbreakable Kimmy Schmidt. Whether it's Kimmy dancing, Titus slaying nerds, Jacqueline calling college boys "futon stains," or Lillian cackling like a witch, this show is an absolute delight. That's why I'm both happy and furious that the character-evolving fourth season was just six episodes — it's easier to remember individual jokes when the season is only three hours long, as opposed to over six hours, but six new episodes is not nearly enough Kimmy. Now we have to wait until January 25, 2019 when season five (which was originally the second half of season four) premieres to learn who the heck was outside the tugboat apartment taking photos. And where's the puppet?!?
Anyway. One of the best things about Unbreakable Kimmy Schmidt is the show's remarkable number of pop culture references. Here are 10 of my favorite from season four (not including this wonderful 30 Rock callback).
1. "Fake" Showtime shows
Imagine if Californication and The Big C were still on.
2. The Capist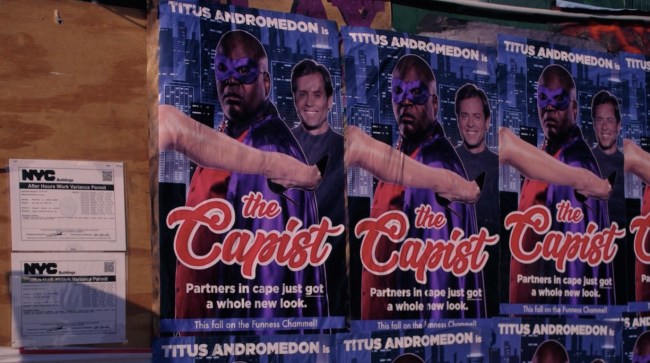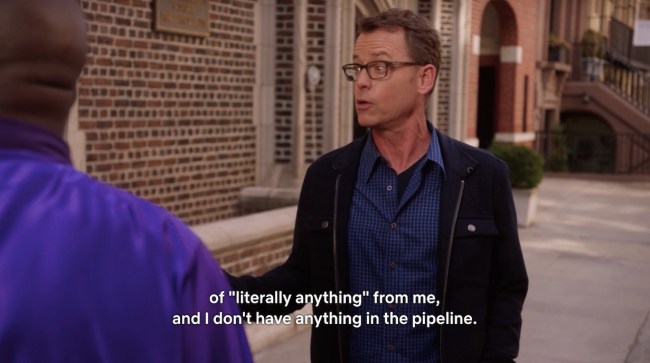 I didn't sign up for YouTube Red to watch Cobra Kai, but I would subscribe to YouTube Brown if they offered The Capist, which combines Community's obsession of The Cape with Tobias Funke's pronunciation of "analrapist." Also, shout out to Greg Kinnear, who's now the top Google result for "white guy, not scary."
3. That's so Kimraven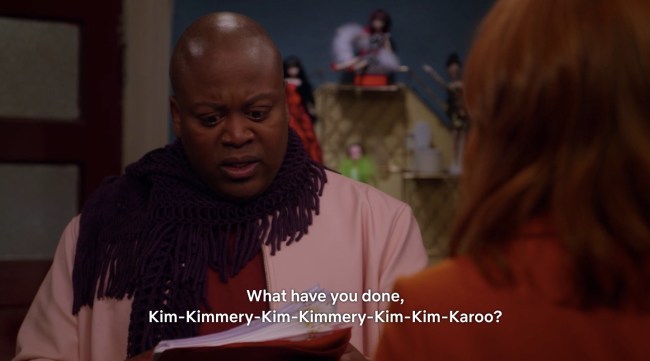 A personal favorite recurring joke on Unbreakable Kimmy Schmidt is Titus' nicknames for Kimmy and other related Kimmy's name puns. Here we have "Kim-Kimmery-Kim-Kimmery" instead of "Chim Chim Cher-ee" from Mary Poppins, "Kimpossible" instead of Kim Possible, and Kimothy Olyphant instead of Timothy Olyphant. That might be my new favorite, over K-Pax.
4. Cate Blanchett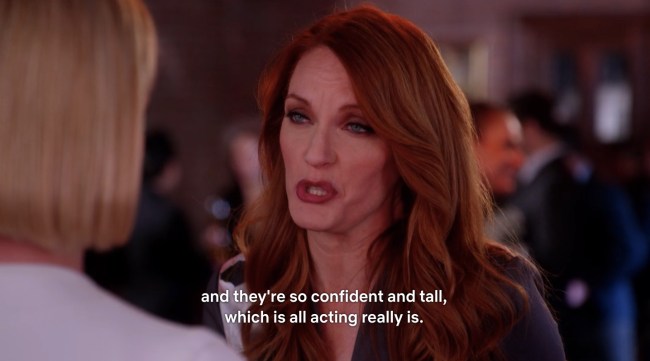 Unbreakable Kimmy Schmidt has a weirdly hostile relationship with Cate Blanchett, and I am here for it. It began in season two, when Titus tells Mikey that he's a "worse actor than Cate Blanchett." When Mikey says that she's great, Titus replies, "Is she? Or is she just tall? An episode later, guest star Billy Eichner, in character as his Billy on the Street persona, screams at Kimmy, "Miss, for a dollar, is Cate Blanchett good, or is she just tall?" In season three, we have a Bravo executive informing Jacqueline that if she's going to start a charity, "it needs to be for, like, wicker baskets at a beach house, or the way Cate Blanchett carries herself." Finally, in the most recent season, there's a subtle callback burn to actors being "confident and tall, which is all acting really is." What did Cate Blanchett do to Tina Fey and Robert Carlock?

5. When let the dogs out?
Jon Hamm is a treasure. It was hard picking only one moment from the series-best episode "Party Monster: Scratching the Surface," so I didn't, and went with three. In a Documentary Now-esque true crime spoof, Reverend Richard Wayne Gary Wayne returns as "DJ Slizzard," who, in 2000, was on top of current music trends by playing not only the Baha Men's biggest hit, "Who Let the Dogs Out?," but also the song's sequel, "When Let the Dogs Out?" He presumable saved "The Purple People Eater" for the end of the party.
6. CSI: Titus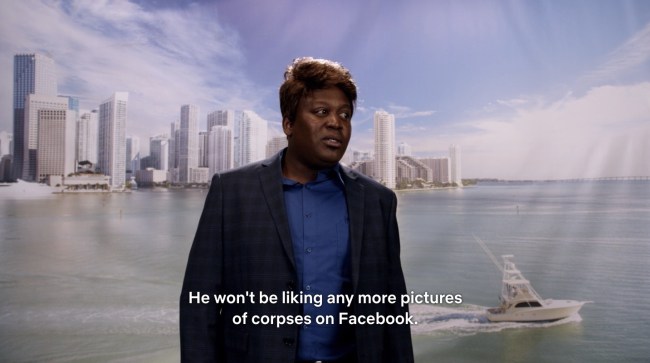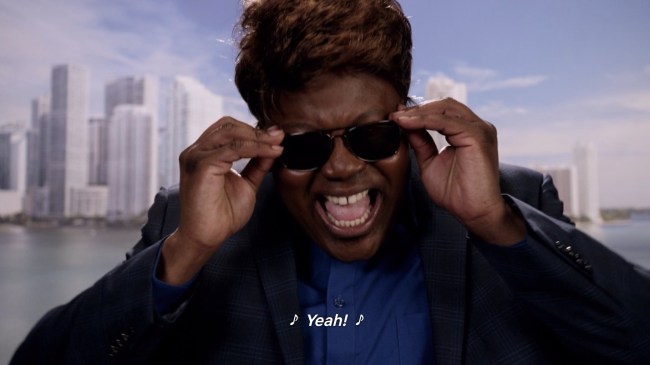 Jacqueline getting Titus a gig as a stock photo model was already a good gag, but what made it great was how often it reoccurred in the "Party Monster" episode. There's Titus as a fireman, Titus skipping stones, and when DJ Fingablast is "unable to get the rights to" a CSI: Miami rerun, Titus as David "Yeahhhhhh" Caruso. My favorite part is that the background is clearly a sheet.
7. Jon Hamm and his "sweet-ass butt cut"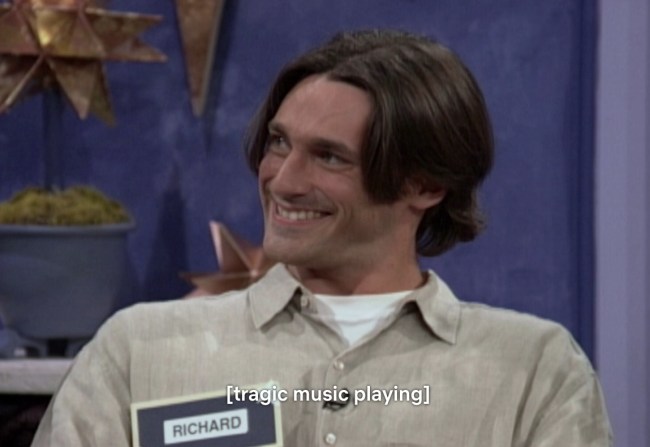 Yes, this actually happened. I wonder what Marc is up to these days. He must brag to all his buddies about the time he went home (or to the ice cream parlor, I dunno) with a woman over Don Draper. "You've told us this 47 times already, Marc," they respond. "You gotta move on, man. We're worried."
8. Doctor When?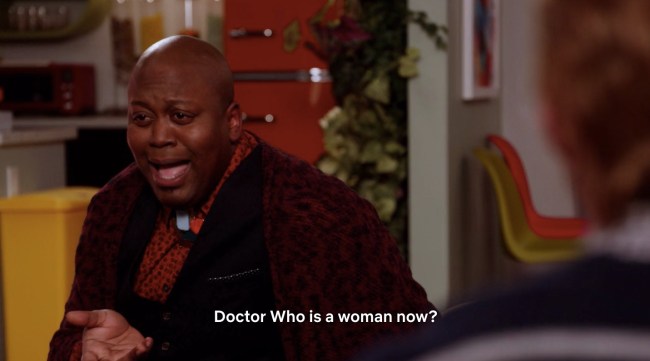 Nerd Titus would fit in really well with Star Wars fans.
9. Kimmy gets incepted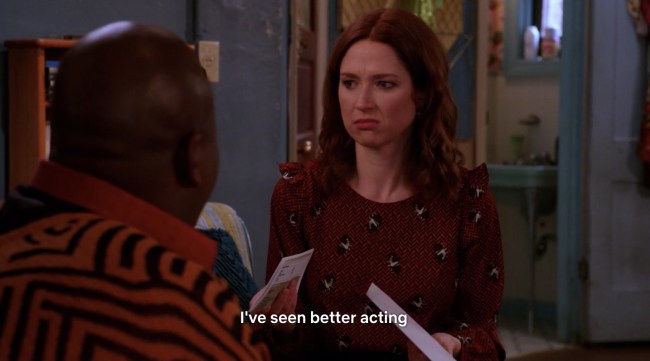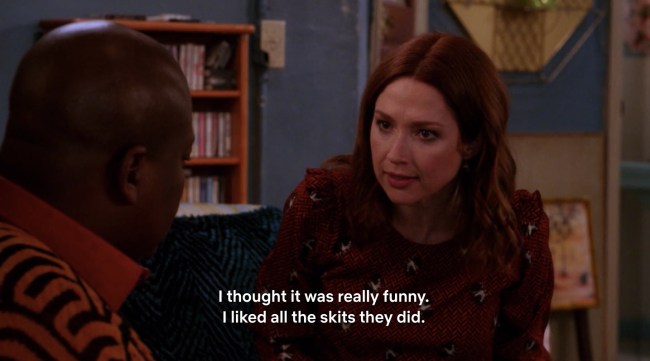 Remember how Unbreakable Kimmy Schmidt hates Cate Blanchett? It also loves to hate Christopher Nolan movies. There's Titus introducing himself as, "You may know me from my attendance at such films as Must Love Dogs and the first 20 minutes of Interstellar," and now, there's Titus mocking Kimmy for pretending to understand Inception, and Kimmy saying she loves the "really funny" skits in the movie. I bet Titus watched Dunkirk on an airplane, out of spite.
10. [Latin Lover Narrator voice] Oh my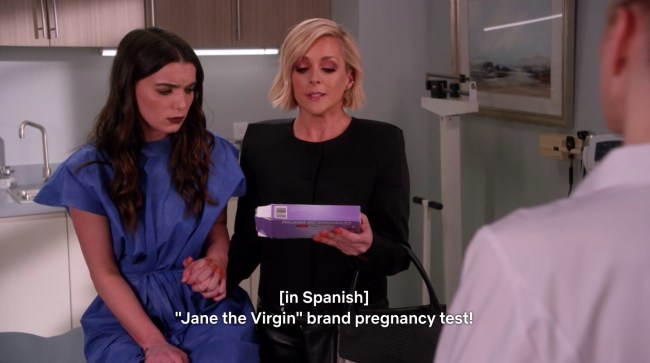 Is it 2019 yet?