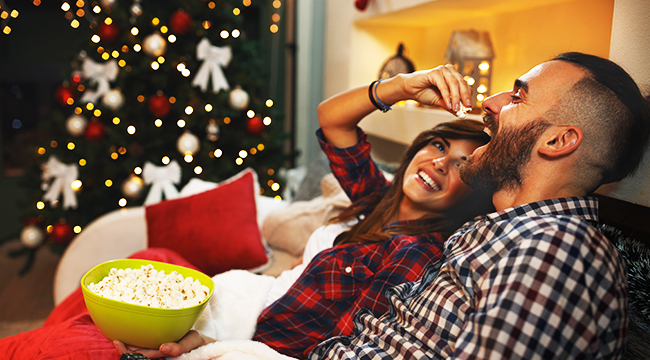 It's the holiday season again, which means it's time to fret over finding the right gifts for the friends and loved ones in your life. But if they're into movies or television, don't fret: we've got some first-class ideas for you right here, from books to novelties to… hairspray? For some cool suggestions, keep reading.
SOMETHING THAT WILL TAKE ALL OF THE NEXT YEAR TO WATCH
100 Years Of Olympic Films: 1912 – 2012 (Criterion)
There are ordinary box sets and then there are box sets that double as mammoth archival projects. Criterion's 100 Years Of Olympic Films meets the second definition, including movies that capture Olympic games from the 1912 Stockholm Olympics to the London games of 2012. There's a long history of films tied to the Olympics, and the 32-Blu-ray (or 43-DVD set) includes everything from movies that became famous apart from the games — Kon Ichikawa's Tokyo Olympiad, Leni Riefenstahl's Olympia — to more obscure offerings like O, Sport, You Are Peace!, which overs the U.S.-boycotted 1980 Moscow Olympics. It's a lot! But a century of history ought to be a lot. — Keith Phipps
WEIRD SIGNED STUFF
One of my favorite things to do to is scan through eBay and other auction-type sites for weird memorabilia. I've never actually purchased any of it, I just like imagining people's faces when I show them, like, a handkerchief used by Ross on Friends, signed by David Schwimmer. "But why?" people will wonder, concern washing over their faces. Well, for exactly that reason. Here are some options in that category, should you so desire: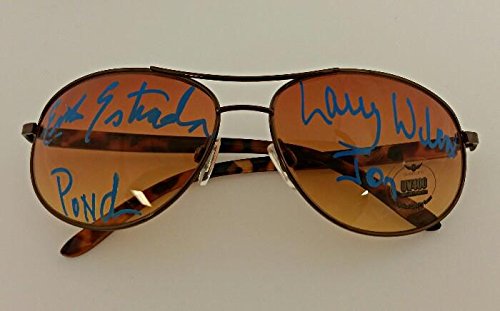 ERIK ESTRADA "PONCH" + LARRY WILCOX "JON" CHiPs Signed Aviator Sunglasses: I love that they wrote over the lenses so you can't even put the glasses on.
Photo of Pete Campbell from Mad Men, signed by Vincent Kartheiser: The key here is to have no other Mad Men memorabilia in your house. Just a signed photo of Pete Campbell. Framed. People will be so confused.
Photo of Wynn Duffy from Justified, signed by Jere Burns: Whoops, this one is from my own personal list, too.
Mad Men sock garters worn by Roger Sterling: Sure. — Brian Grubb
A GREAT MOVIE THAT MAYBE DIDN'T NEED TRADING CARDS BUT, SURE, WHATEVER
The Godfather Collection: Omerta Edition (Paramount)
The Godfather films have been repackaged and re-released many times over the years, from the VHS era to present. This new version doesn't offer much beyond the "Coppola Restoration" edition that appeared a few years ago (beyond some trading cards). But if you don't own these movies, there are some compelling reasons to pick up this set:
• They're the Godfather movies. They're great. (Well, the first two are great and the third one is kind of fascinating, but you can just consider that an added bonus disc.)
• The restored versions overseen by Francis Ford Coppola were kind of a big deal, making these movies look better than they'd looked since they first ran in theaters.
• It's the holidays and there are only so many specials and sporting events that will make everyone happy once the kids are in bed. The Godfather and The Godfather: Part II never disappoint. And the films' running time assures hours of uninterrupted, mutually agreed upon movie greatness.
• Trading cards! — KP
OLD FAVORITES ON BLU-RAY AND DVD
While many TV fanatics have embraced the shift from physical media to streaming, sometimes a real, actual DVD or Blu-ray still works best. There's something more permanent about it, and it signifies a deeper level of fandom.(Also, some shows aren't on any streaming platform right now, which is a little infuriating, in a "yes, I know I have thousands of shows at the tip of my finger in a way that would have been considered sorcery not even 20 years ago, but still" kind of way.) If the person you're shopping for is that kind of fan, consider these:
The Sopranos: The Complete Series (HBO): Still great. Not getting any worse, either.
Columbo: The Complete Series (Universal): Okay, maybe this one is just a suggestion for me.
Looney Tunes: The Golden And Platinum Collections (Warner Bros): If you ever find yourself feeling "too old" to enjoy Bugs Bunny cartoons, please re-evaluate all the decisions you've made. All of them. There are several home video incarnations, but the best are the Golden (for DVD) and Platinum (for Blu-ray) sets that compile a bunch of shorts and bonus features together (albeit sometimes confusingly). A more recent collection, Porky Pig 101, takes a different approach, throwing 101 (!) Porky shorts together in a five-disc set. — BG

A POSTER THAT IMAGINES A BUNCH OF MOVIE CHARACTERS LIVING TOGETHER INSIDE A GIANT CAMERA
Inside Information: The Director's Cut (Dorothy)
We get a lot of unusual solicitations in our Uproxx inboxes, including a lot of movie- and TV-inspired art. Most are, frankly, pretty bad. But we keep coming back to this print, a cutaway of an Arriflex 35 IIC camera filled with famous movies scenes, from the Psycho shower scene to the end of Planet of the Apes. It's like a Where's Waldo? page for movie buffs, only with Jack Nicholson in The Shining instead of some bespectacled kid in a striped shirt. — KP
SPECIALTY STREAMING SERVICES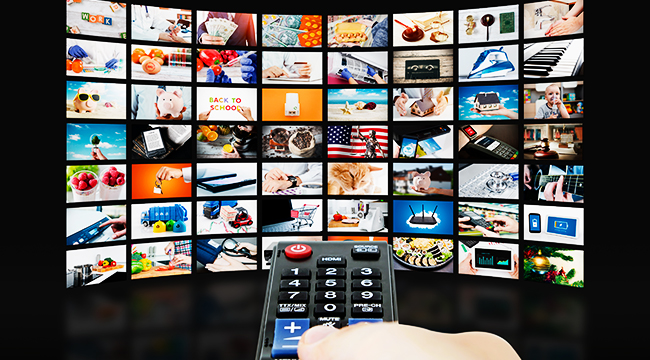 We offered a bunch of recommendations for specialty streaming services last year and, at the risk of repeating ourselves, subscriptions remain a great gift idea. (At least for those services that went the distance. RIP Seeso.) A few worth your time and money:
FilmStruck: One year into its existence, FilmStruck has more than lived up to its promise of being the service "For Film Lovers, By Film Lovers." A team-up between Turner Classic Movies and the Criterion Collection, it features more canonical classics than you'll find on any other service — especially with most larger services more or less ceding the territory of any movies made before 1990. Perhaps just as importantly, it's loving curated. New titles cycle in constantly and the groupings of movies by themes, directors, and other elements help provide paths through the cinematic forest. The bonus features ported over from Criterion's DVD and Blu-ray releases are an education as well. (The Criterion titles cost a few bucks extra per month, but they're worth it.) FilmStruck has also begun expanding into podcasts and other ventures as the community around it has grown.
MUBI: Speaking of curation, MUBI takes that concept to the next level, adding a movie each day then removing it after a 30-day run. The service usually has a couple of series running at once — recent examples have included a string of Takashi Miike movies, a tribute to Jean-Luc Godard, and a handful of Tibetan films — and the emphasis on arthouse and international cinema helps shine the spotlight on movies that you'll have a hard time finding anywhere else.
Fandor: Fandor plays in the sandbox as MUBI, but with a more stable collection of films that range from silent classics to more recent arthouse fare.
Brown Sugar: In the last year, Brown Sugar has expanded its offerings from it its initial focus — the blaxploitation films of the 1970s — to include a wider array of offerings that still match service's self-defined identity as "Just Like Netflix. Only Blacker." So Shaft and The Mack and many more far more obscure titles, are all here, but so are stand-up specials like Zasheer Zamata's Pizza Mind and the overlooked prison boxing drama Undisputed.
Shudder: Horror fans, on the other hand, need look no further than Shudder, with a selection of genre fare that includes everything from classics like The Wicker Man to more recent indie efforts. Shudder's also branched out into original programming of late, via series like Wolf Creek and the behind-the-magic series The Core (the latter co-produced by Uproxx.) — KP
A BOOK WITH A BUNCH OF PHOTOS OF DAVID BOWIE LOOKING MYSTERIOUS ON A MOVIE SET
David Bowie In The Man Who Fell To Earth (Taschen)
There are few movies as mysterious as The Man Who Fell To Earth, Nicolas Roeg's 1976 science fiction classic in which David Bowie plays a space alien who travels to our planet in an attempt to save his own and ends up getting sidetracked. It's the role Bowie was born to play and even the behind-the-scenes photos collected in this new volume seem kind of unreal. There's Bowie relaxing on the set, but looking as composed as he does on an album cover. Some people were born to be on camera. Making the film was, by his own account, a personal nadir for Bowie, and helped prompt him to reinvent himself in Berlin. The candid images here capture an artist on the verge of transforming from one phase to the next, and in the process of helping to make a masterpiece as a side venture. — KP
STRANGER THINGS THINGS
Got a Stranger Things fan in your life? Cool. Stranger Things is fun and good. A few clicks around the internet will reveal various Hawkins High sweatshirts and signed scripts, but it also reveals these, which are… something.
Slightly used Farrah Fawcett hairspray: The best part about this is that someone had a 30-year-old can of hairspray sitting in their house and now that Stranger Things made it relevant again (it was part of Steve's top-secret hair care routine), they are trying to sell it for $400. I appreciate the hustle.
Socks: Give them together with the used Mad Men sock garters. Be a real lunatic. It's the reason for the season! — BG
GAME OF THRONES THINGS
HBO has a ton officially licensed Game of Thrones stuff in its online store, from wine glasses to swords to fuzzy plush direwolves. My personal favorite are:
The Night King ice cube tray: I have yet to figure out exactly why this exists but I love it. I want to throw a Game of Thrones viewing party and serve all the drinks with these and see how long it takes people to notice.
Lannister cardigan: For the stylish tyrant on his day off. — BG
AN ESSENTIAL BOOK FROM UPROXX TV CRITIC ALAN SEPINWALL
Breaking Bad 101: The Complete Critical Companion (Abrams)
Uproxx's own Alan Sepinwall just released a deep, comprehensive guide to Breaking Bad, which is the perfect gift for any super fan, or anyone starting a rewatch, or anyone diving into the show for the first time. Also, check out Alan's other TV-themed books: The Revolution Was Televised and TV: The Book, co-written with Matt Zoller Seitz. — BG

OTHER WORTHWHILE TV BOOKS