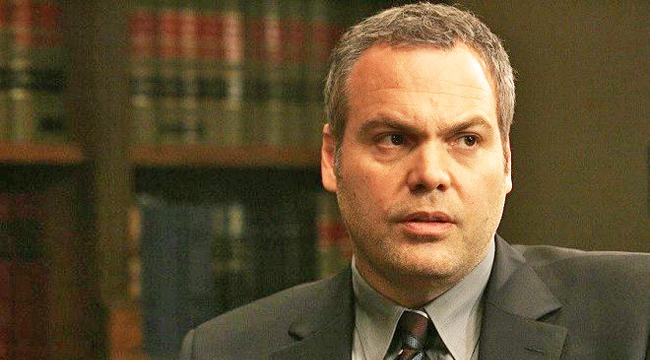 These days, 59-year-old actor Vincent D'Onofrio is probably best known to audiences as Wilson Fisk/Kingpin, the villain in Netflix's Marvel series, Daredevil or for his villainous role in 2015's Jurassic World. Earlier in his career, of course, he was best known for his career-defining breakout role as Private Pyle in Stanley Kubrick's Full Metal Jacket. However, for a ten year period between 2001 and 2011, D'Onofrio was known almost exclusively for his role as the implacable Robert Goren on Dick Wolf's hit procedural, Law & Order: Criminal Intent.
He was not, however, always thought of fondly, especially by his co-workers and producers on the show. He was purportedly so belligerent and aggravating on the set that, in 2004 when D'Onofrio collapsed on set after suffering from exhaustion, the rumour was that his co-workers didn't even seem to care. After being hospitalized, Dick Wolf even explored the idea of replacing D'Onofrio on the series.
This week on Dax Shepard's podcast, Armchair Expert, D'Onofrio spoke at length about that period, which he essentially described as the worst time in his life.
As he explained to Shepard, D'Onofrio struggled even over the idea of originally accepting the role on a TV series. Ultimately, however, he took the Criminal Intent gig because he was worried about his ability to sustain his career and support his family over the long term. "I'm a little too crazy to have a career," he told Shepard. "Like, something you can bet on. I think I'm talented, but a little too unhinged."
Concerned about his ability to keep his career going as a character actor, D'Onofrio took the job after his manager sold him on the fact that he'd be in New York (where he lives) and "life will be better." But that wasn't true with Criminal Intent. "You're never home. You never see your wife. You don't have any friendships except with people on the set. You're doing 23 episodes and working 18 hours a day."

Things began to unravel for D'Onofrio in season four, the year he collapsed from exhaustion, because not only was he filming 23 episodes a year, he was in nearly every scene of the show. "I had to stay ahead two days on dialogue. To actually have to be learning scenes two days before you shoot them while you're shooting other scenes that you learned two days before that."
On top of that, D'Onofrio also lost his sister and his step-dad during that time. In fact, his sister died while reading a letter to her dead step-dad. "She had an aneurysm and died … [Criminal Intent] wouldn't even allow me to go to the services. They wouldn't give me any time. So, I had a lot of anger, and angst, and total exhaustion." On top of that, D'Onofrio's relationship with his wife at the time was "f*cked, because we never saw each other."
"There's not a lot of things I deserve in life, but I deserve a trophy for [getting through] that period of time."
He added that, at least with respect to his time as an actor on Criminal Intent, he gained something of a bad reputation because he was so unhappy on the set. "I really pushed it so far on Criminal Intent that the people I worked with are scarred for life … I think I've affected some of those people in a way that they'll never recover. I think they talk sh*t about me. I don't think they want to, but it's involuntary. It's like a seizure," like PTSD, D'Onofrio explained.
To his immense credit, however, D'Onofrio managed to recover from what he called his "rock bottom" and come out of it a happier, healthier person. In fact, he did several more seasons of Criminal Intent before leaving in 2009 only to return again for the eight-episode final season in 2011. In Shepard's podcast, moreover, he proved to be an endearing, albeit intense guest, frequently praised by Shepard as not only a brilliant actor but a great friend.