Re-watching the pilot of The Walking Dead this week in anticipation of the sixth season premiere, I found myself wondering what happened to the actors who played some of those early season characters. A few of those questions were answered in Ashley's piece, interviewing several of the actors who have died on the series.
However, one character proved in one scene to be more memorable than several of those first-and-second season regulars. No offense to Keedar Whittle, but I don't remember his character, "Sean." I do, however, remember the very first zombie to appear on the series.
In the series cold open, a clean-shaven Rick Grimes (Andrew Lincoln) is headed out of town, searching for gas, when he stumbles upon a little girl, who he initially assumes is a human. When she turns around, however, he discovers that she's a zombie. As she shuffles toward him, Rick pulls out his gun and puts a bullet in her head.
We probably should've guessed what kind of dark, brutal series we were in for when the very first death on the series was of a little girl.
That little girl was played by an actress named Addy Miller. She's 15 now, which probably would've made her 9 when she filmed the scene for The Walking Dead cold open. It was not Miller's first role, and she has also continued to act since The Walking Dead, starring recently alongside Charlize Theron in the feature adaptation of Gillian Flynn's Dark Places.
Here she is two months ago on the red carpet for the Dark Places premiere: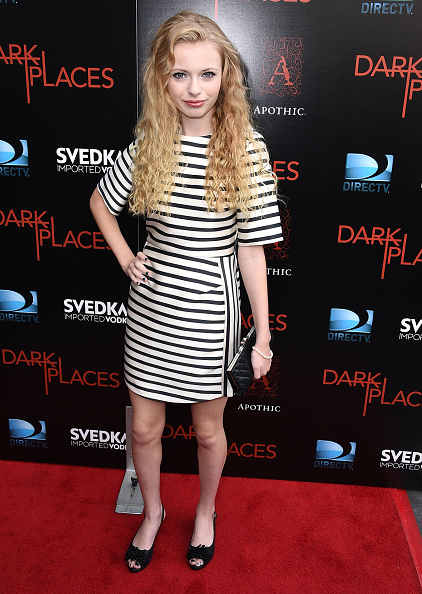 Huffington Post caught up with her this week and asked her what it was like seeing herself as a zombie.
People thought it was gross on the show. Well, imagine seeing that in person. Like, all the detail. It was disgusting to look at. I would get nauseous when I looked at it in the mirror. I could barely recognize myself. It was insane.
Though she only had a few seconds of screen time, she clearly left a lasting impression.
Now Watch: Why Sam And Ron Are The Worst On 'The Walking Dead'