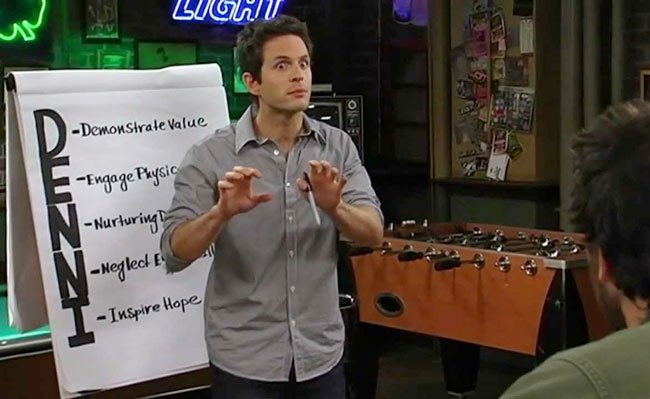 It's not just an implication. Kaitlin Olson of It's Always Sunny in Philadelphia and The Mick has revealed to The Wrap that Dennis (Glenn Howerton) is returning to Always Sunny for "some episodes" in the upcoming 13th Season of the hit FXX show.
"I do know that Glenn Howerton is coming back for some episodes," Olson told TheWrap. "I don't know the specifics, but I do know how he's being introduced back in, and it is absolutely hilarious." The rest of her response was too cagey to even publish, as Olson tip-toed around sharing any spoilers.
It's been a long wait to find out when (and if) Howerton would come back. After the Season 12 finale, Howerton told us "it's a little complicated." His sitcom co-starring Patton Oswalt, NBC's A.P. Bio, had just been picked up (the ninth episode of Season 1 aired Thursday night), and the story arc for Dennis on Always Sunny is at a point where a long absence wouldn't seem odd. Howerton has left the door open, saying in January of this year that he has "not officially left yet," and following up later in the month with a clarification, reiterating that it's "POSSIBLE" he's coming back but he could also "be gone forever" and the narrative shouldn't focus on that, nor should people assume he can't do two shows at the same time. "That's like saying that Jumanji is taking The Rock away from Fast and Furious," Howerton added.
But it seems like everyone — both cast and fans — wants Dennis back, and it appears we're getting our wish. Thanks to whoever paid the troll toll.
(Via The Wrap)