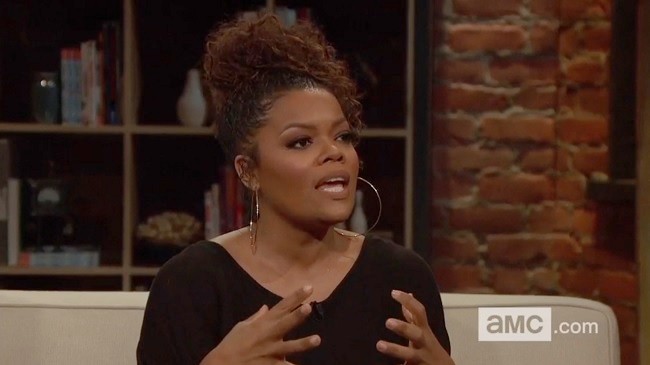 Last week, we learned that frequent and popular guest on AMC's Talking Dead, Yvette Nicole Brown, would be replacing Chris Hardwick as host of The Walking Dead and Fear the Walking Dead panels at San Diego's Comic-Con next week. Now, Deadline is reporting that Brown will also take over as the "interim guest host" of Talking Dead, the popular The Walking Dead and Fear the Walking Dead after-show.
Brown — a popular choice on social media to replace Hardwick — will be handling hosting duties on an interim basis, beginning with the August 5th The Walking Dead Season 9 Preview Special and then as the host of the show after Fear the Walking Dead when it returns on August 12th.
Brown has officially only been named interim host while AMC continues to investigate Chris Hardwick after his ex-girlfriend Chloe Dykstra accused him of long-term abuse during their relationship. Some Hardwick's ex-girlfriends have come to his defense amid the allegations, as has his wife, Lydia Hearst, and her mother, Patty Hearst. Nevertheless, a month after Dykstra published her allegations on Medium, AMC still has not concluded its investigation and apparently will not before Fear the Walking Dead returns next month.
Losing The Talking Dead on an interim basis is the latest blow to Hardwick's career. Also, he will no longer be hosting The Walking Dead or Doctor Who panels at Comic-Con, as previously scheduled, and AMC also pulled his talk show Talking with Chris Hardwick the day before the second season was set to premiere. The site that he founded, Nerdist, has also scrubbed him from the website.
Brown, meanwhile, should feel right at home as host of The Talking Dead, where she's a frequent presence. She's also hosted other AMC after-show programs, including Talking Preacher. Nevertheless, Brown has stated that she's not trying to take Hardwick's job. After replacing Hardwick on the Comic-Con panels, the former Community and The Mayor star noted on Twitter:
If AMC ultimately decides not to bring Hardwick back, it is unclear if Yvette Nicole Brown will replace him on a permanent basis.
(Via Deadline)