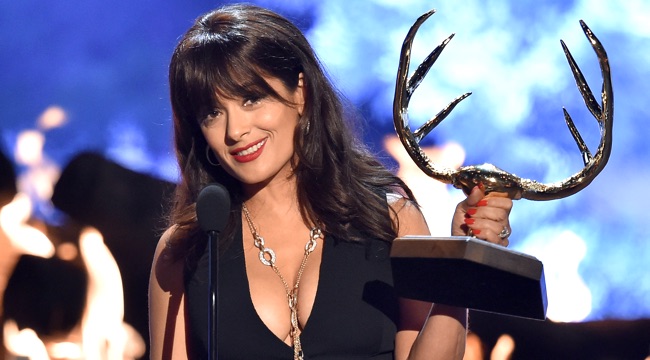 Mom always said to wear clean underwear for a good reason, right? That way, no one lands in the hospital while wearing a mortified expression in addition to howling in unbearable pain. Never mind that anyone in the hospital has greater concerns than underwear pride, but the warning gets nonetheless repeated across generations. Moms, so embarrassing.
Salma Hayek learned the meaning of the word "embarrassing" when she endured an on-set injury. Hayek never revealed the movie she's filming, but she's still sort of working on a film called Sausage Party. Nahh, that movie is actually an animated film starring Seth Rogen and James Franco. Those two would delight in such a movie title, but Hayek must be up to something else.
Whatever the case, Hayek suffered what she described as "a minor head injury." She rushed to the emergency room without changing shirts, but her noggin was a-okay. So, she felt well enough to pose with some doctors who looked thrilled in this Instagram picture. Boy, I wonder if their expressions have anything to do with Hayek's wardrobe shirt?