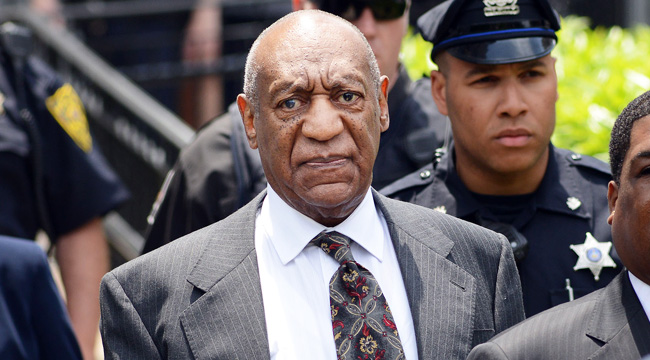 Comedian and actor Bill Cosby has been found guilty of all charges in his sexual assault retrial in Norristown, Pennsylvania. According to the Associated Press, the jury convicted the Cosby Show star of three counts of aggravated indecent assault, each of which carries of a fine of up to $25,000 and a maximum jail sentence of 10 years. The decision, which the jury arrived at on the second day of deliberations, came less than a year after Cosby's original sexual assault case ended in a mistrial. The New York Times notes that the #MeToo movement may have played a part in the retrial's speedy ruling.
Thursday's decision specifically concerns the case of Temple University employee Andrea Constand, who claimed Cosby drugged and assaulted her at his suburban Philadelphia home in 2004. The retrial jury not only learned that Cosby had settled with her out of court for $3.3 million, but that he had later admitted to drugging her and other women and subsequently assaulting them during a 2005 deposition. This, along with a previous juror's revelation that the prosecution had lacked access to substantial evidence against Cosby (or wasn't allowed to include it), signals precisely what was different about the retrial.
The effects of the post-Harvey Weinstein scandal #MeToo and Time's Up movements cannot be denied. More and more protesters began showing up at Cosby's retrial and confronting him. Even his defense team "required [jury candidates] to provide assurances that the accusations against scores of other famous men would not affect their judgment." As attorney Kathleen Bliss cautioned at one point during the proceedings, "Mob rule is not due process." Yet it seems the evidence against Cosby regarding the charges of penetration with lack of consent, penetration while unconscious, and penetration after administering an intoxicant was undeniable.

Video of women leaving the courtroom, crying and embracing one another, quickly went viral once the verdict was released. So too did accounts from journalists on the scene who reported that Cosby angrily "[lashed] out at prosecutor in expletive-laden tirade." CNN described the outburst as being delivered in a "loud booming voice," and ABC News producer Stephanie Wash transcribed the precise details of Cosby's ire, which concerned his possibly being a "flight risk." In response to the D.A.'s argument, he allegedly called the prosecutor an "asshole."
(Via Associated Press and New York Times)