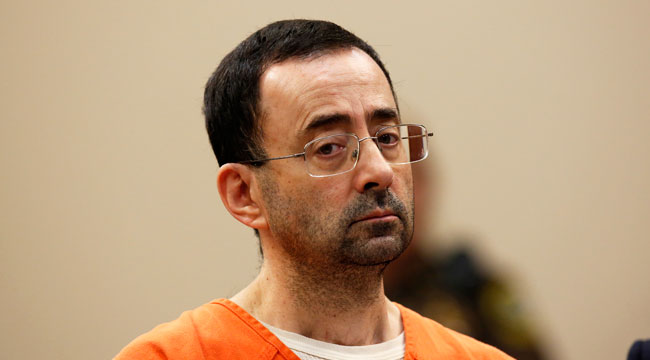 The shoes continue to drop in the ongoing Larry Nassar scandal at Michigan State University. The day after Nassar's former boss, William Strampel was charged with sexual misconduct, a Michigan newspaper uncovered evidence that the school had paid a public relations firm $500,000 to monitor the social media accounts of Nassar's victims.
According to the Lansing State Journal, MSU hired the New York firm Weber Shandwick to monitor the accounts of both Nassar's victims and the journalists who were covering the story. The firm then invoiced the school for over 1,400 hours of work:
"The firm billed for work done by 18 different employees, whose hourly rates ranged from $200 to $600 per hour. Five of those employees billed MSU for more than $50,000, including one who billed for $96,900 and another who billed for $120,893."
Throughout the month of January, as Nassar's sentencing took place, the story became national news. All the while, MSU officials like then-school president Lou Anna Simon, the board of trustees, their attorneys, and others were receiving reports about what the victims and the journalists covering their stories were saying on social media. MSU claims the school is no longer working with Weber Shandwick. According to records obtained by the Lansing State Journal, MSU has spent nearly $10 million on outside law firms and consultants to work on lawsuits and image rehab campaigns related to the Nassar scandal.
(Via Lansing State Journal)