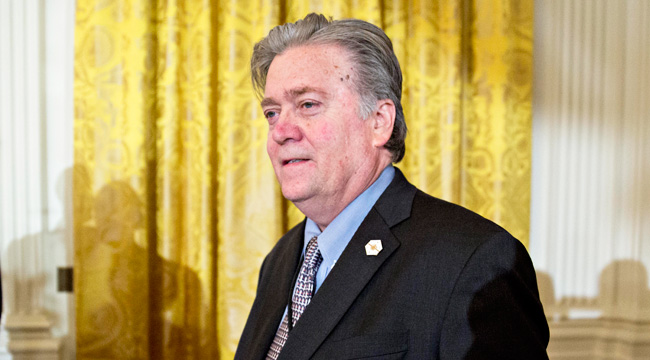 Donald Trump's chief White House strategist Steve Bannon has taken a page out of his boss' book and derided the media, saying it should "keep its mouth shut." While speaking with the New York Times (which notes how Bannon rarely speaks to any outlet besides Breitbart), he even called the media "the opposition party."
Bannon's comments come at a time when relations between the press and White House couldn't be worse. Trump has appeared to make it his personal vendetta to call out reputable news sources as "fake news," and he publicly derided CNN's Jim Acosta during a press conference. We have already seen more hostility towards the media through the introduction of "alternative facts."
Speaking with the NY Times, Bannon didn't hold back his thoughts and echoed some of Trump's same feelings. He accuses the media of being a sore loser for not correctly calling the election: "The elite media got it dead wrong, 100 percent dead wrong … a humiliating defeat that they will never wash away, that will always be there."
Bannon has been instrumental to Trump's nationalist message, and he pushed this perspective at the far right-leaning news site Breitbart. But now that he is no longer in the thick of it and has the world's largest platform to spread his message, he 's taking pot shots at the press. And he made sure this was on the record:
"The media should be embarrassed and humiliated and keep its mouth shut and just listen for a while…I want you to quote this. The media here is the opposition party. They don't understand this country. They still do not understand why Donald Trump is the president of the United States."
Bannon also took a moment to commend White House Press Secretary Sean Spicer, who has come under scrutiny for his first few days on the job. Bannon didn't really seem to care about Spicer's mess ups or what the press thinks.
(Via The New York Times & CNN)