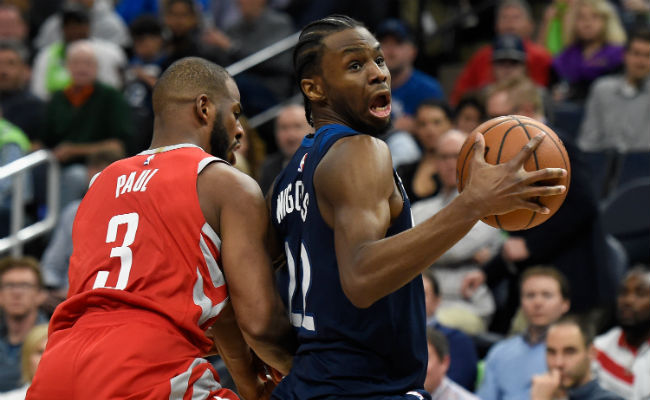 Jimmy Butler is on the trade block in Minnesota, whether they like it or not. The Timberwolves trade acquisition from last offseason seems destined to leave the Land of 10,000 Lakes after a falling out with players there and, presumably, head coach and friend Tom Thibodeau.
News that Butler had requested a trade after a meeting with Timberwolves management was met with speculation about where he would end up. But for some close to the situation, say Andrew Wiggins' brother, they're just happy Butler is on his way out the door.
That "Hallelujah" tweet drew criticism from some around the league, and a reaction from Butler himself. But former NBA player Stephen Jackson had a problem with Wiggins letting his brother address the situation at all. On Wednesday, Jackson criticized Wiggins and his brother for how they handled the situation in an Instagram video that sparked a war of digital words late Wednesday night.
https://www.instagram.com/p/Bn7qmsqHdby/?utm_source=ig_twitter_share&igshid=n6o41ejxurwl
Jackson said, in essence, that Wiggins should have told his brother not to speak about the situation because Butler plays harder than Wiggins, making a fairly clever The Wizard Of Oz reference in the process. In the video, he takes on the role of both Wiggins and his brother, rhetorically asking himself why he shouldn't have sent out the tweet.
"Say big bro. I don't think you should have sent that tweet out."

Why you say that?

"Because, you know, Jimmy Butler, he plays with a lot of heart. He plays hard. He plays with a LOT of heart and I ain't got no heart. Now you wanna get on social media an talk about Jimmy and we lose him, our team ain't got no heart. Now if you gonna take me to the wizard and help me find the Yellow Brick Road then cool you can talk about Jimmy all you want, because you know I ain't got no heart."
"That's why Cleveland traded me," Jackson said, giving on final jab at Wiggins in the video.
Wiggins fired back on Twitter late Wednesday night, putting a text post on his Instagram story that criticized "old dudes" hating on him and saying that it motivates him to get better.

Jackson, of course, sent out another video, which begins with him casually blowing a smoke cloud and brushing aside criticism that he's an old hater.
https://www.instagram.com/p/Bn7w3ieHIZN/?utm_source=ig_twitter_share&igshid=7784vap8puyq
For what it's worth, Wiggins' brother also responded to Jackson.
What we have here is not a failure to communicate, but perhaps too many chances taken to communicate. Nothing will be solved here, but it's clear that the murky situation in Minnesota will be best solved by Butler going elsewhere. It doesn't necessarily mean that he was the problem there, though. At least not according to Stephen Jackson.