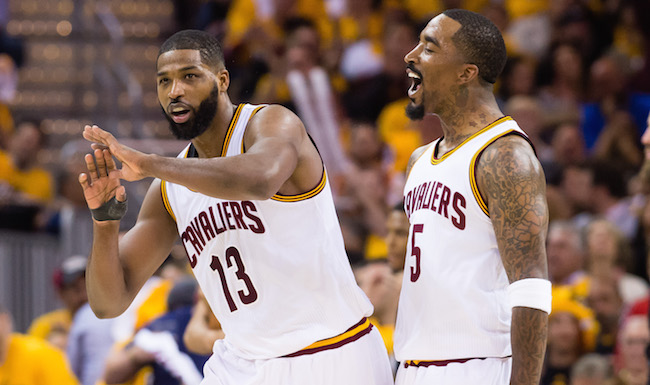 The Cleveland Cavaliers are in trouble. The reigning and three-time defending Eastern Conference champs are perilously close to falling out of the top four in the East and the prospects of improving the roster at the trade deadline are growing ever slimmer as the hours tick down to 3 p.m. ET on Feb. 8.
As the Cavs continue to survey their roster and assets while looking around the league for some help on the trade market, they're finding that there isn't one trade that can fix their problems. Not only is it difficult for them to make substantial improvements with one trade, but it's also going to be exceedingly hard for them to blow things up and make multiple big moves to really shake up the roster.
Two of the biggest problem spots for the Cavs in making trades are with the contracts carried by Tristan Thompson and J.R. Smith. Thompson makes $16.4 million this year, but is owed right on $36 million guaranteed through 2019-20, which is a lot of money for what he does. Smith makes less money at $13.7 million this year, $14.7 million next year with only $3.8 million guaranteed in 2019-20, but considering he's fallen off steeply this season his contract might be even less valuable than Thompson.
In any case, those two contracts signed in the wild summer of 2016 following their championship run when the cap spiked now haunt the Cavs as they look to restructure their roster. Their pursuit of DeAndre Jordan has stalled out chiefly because the Clippers won't even consider taking on either Tristan or J.R.'s contracts (certainly not both) unless the Brooklyn 2018 first round pick is involved, which to this point has remained off the table in talks.

According to ESPN's Adrian Wojnarowski, who joined the Lowe Post podcast on Monday, the two deals have proved "not movable" to this point in trade conversations.
"Tristan Thompson's contract and JR Smith and some of the guys with big numbers on their team are just not movable," Woj said. "If you're the Clippers, the idea of taking Tristan Thompson on just to get the Cavaliers 2018 pick, let's say it's gonna be 25 or 26 wherever it falls, is it worth taking on all that Thompson money going forward? The answer to that is probably not."
USA Today's Sam Amick confirmed the Cavs are working diligently to move Thompson and Smith, but to this point have yet to find anyone interested.
Cavs general manager Koby Altman is trying hard to shed the contracts of Tristan Thompson (two years, $36 million remaining) and J.R. Smith ($14.7 million next season, team option worth $15.6 million in 2019-20 with $3.8 million guaranteed), two players who were re-signed in large part because of LeBron's omnipresent influence.
Basically, the Cavs are stuck with Thompson and Smith unless they're willing to ship the Brooklyn pick out with them. That becomes something of a conundrum, because you would, at once, be shedding long-term money that could help facilitate a rebuild while also trading away your only positive asset for the future all at once.

That issue may best illustrate how incredibly poorly the Cavs are built for the situation they are in. This is a roster that was put together with the idea in mind that their floor was the Eastern Conference Finals and, more than likely, a Finals berth. However, when Kyrie Irving pushed his way out, the Cavs saw that as writing on the wall that they would have to start thinking about the future sooner rather than later and would need to find a new centerpiece to build around in a post-LeBron world.
Irving was going to be that guy, but he wisely saw the foundation crumbling and got out before everything started crashing down so he didn't have to be part of another Dan Gilbert led rebuild. The Cavs tried to straddle the fence by getting the Brooklyn pick and Isaiah Thomas, hoping the injured point guard would return to form and keep LeBron happy, while also providing them insurance for James' impending free agency.
What has ended up happening is Thomas struggling to regain his form and the Cavs having a roster featuring few tradable assets (the best of which now has a broken hand) and a Brooklyn pick that is their only hope of adding help this year to try and keep LeBron, which isn't guaranteed, but also being their only hope for the future if LeBron leaves.
Have you checked out the new DIME podcast?
[protected-iframe id="57f41ccbf2efff14a316e92147d82d7c-60970621-10222937″ info="https://omny.fm/shows/the-dime-podcast/episode-18-andrew-sharp-and-joey-dosik/embed?style=artwork" width="100%" height="180″ frameborder="0″]